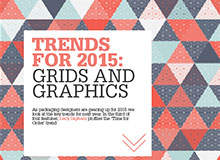 With 2015 barely on the horizon, many packaging designers have already all but finished their designs for next year. But with such a long lead time, they have to look to social trends to predict what packaging will appeal in 2015.
Issues or topics that infiltrate people's lives on a large scale are a popular source of inspiration because they have the potential to appeal to large numbers of the buying public. According to Global Color Research director of creative projects Laura Perryman, the Time For Order trend is typical of this because of its focus on the prevalence of documenting and monitoring in daily life.
"[With] grids and networked systems controlling many aspects of our lives it's no wonder they have started to influence our material choices on an unconscious level," says Perryman. "This trend is about a celebration of geometry, precision and innovation."
On a practical level, this translates into packaging that uses solid, single colours, bold outlines, innovative package engineering and architectural shapes and structures.
Tensile structures: shapes and decorative details
An important part of the trend is the use of clever tensile structures and shapes to create appeal and wow factor. Perryman is quick to make clear that the trend is not about a revival or materials such as net bags, but about creating boxes or cases that have, for example, geometric or skeletal detailing.
"There are lots of products out there that are using really geometric structures to encase things with, but we were looking at lattice structures and decorative details with interwoven metals," Perryman explains.
She adds that the trend would work well for items where open packaging is used, such as for household products. "These kind of open structures that protect the objects underneath but allow you to see what's there, so it's more obvious packaging," Perryman says.
However, she also believes that this trend could be commercially beneficial as it would allow the development of "protective skins or gridded surfaces that might be a new form for a casing", allowing for protective yet interesting, highly graphic packaging to be created.
"I think it's a really good shape trend, it speaks so much of precision and innovation, this idea of materials being simplified into really clean executions," she explains.
Power in colour: single shades of solid colours
Despite shape and structure playing the primary role in this trend, colour is hugely important too. Most significant is the use of a single shade of solid colour, which Perryman believes can enhance brand value and shelf presence.
A particular example of this is GF Smith's packaging for Mulberry, which Perryman cited in a talk about the trend last year. Here a single shade of grey is used throughout the range, which Perryman sees as a method of Mulberry "building up their own heritage with colour".
Talking about Mulberry and clothing brand Acne's use of the technique, she says: "They're just using singular executions of colour all over their products, all over their packaging and it inherently goes through the product itself, the package that it goes on, the shelf and the retail space."
Perryman sees this trend as representing clear simplicity for consumers – something that a variety of scares and conflicting information has left many feeling without.
"I think that brands are trying to communicate with consumers on a really clear level so people know what they are buying into, it's not confusing and it's branded really clearly," she explains. "It's the simplicity within branding at the moment which this trend communicates with, the simple graphic execution – almost like a bold, flat execution but that's really on trend."
High quality card: materially minded?
Materials take a back seat in this trend, but with such a graphic focus there is the potential to use materials that are designed to work well with tensile structures.
"On a really high-end level there could be a shape, a box that has a structure to it but actually the item inside is suspended using a tensile net or grid," explains Perryman.
However it seems likely that for most followers of this trend, card will be king.
"You could be talking about really high quality cards which are embossed or laser cut, which just have a very simple lattice structure on top that's part of the decoration of the surface," adds Perryman.
Universal appeal: everyday household products
The lack of expensive materials and the use of singular colours make this a trend a rarity, as it is as applicable to mass market packaging as it is to bespoke, high-end products.
"It doesn't have to be something that is really high-end; it could be for more of an everyday product. It could be for makeup, or a household product," Perryman explains.
Perryman sees high-end expressions of Time for Order using materials such as glass and wood, but for low-end uses she believes designers will be focusing on surface applications such as graphic design, print and embossing techniques.
This packaging could in particular work for very cheap packaging with simple printed card. Perryman explains: "Literally the straightness and the beautifulness of graphic grids would be really nice to see."
This trend is based on Frame, from Mix Trends issue 27, Autumn Winter 2014/15. For more information on colour and materials trends or Mix Trends go to www.globalcolor.co.uk
Lucy Ingham