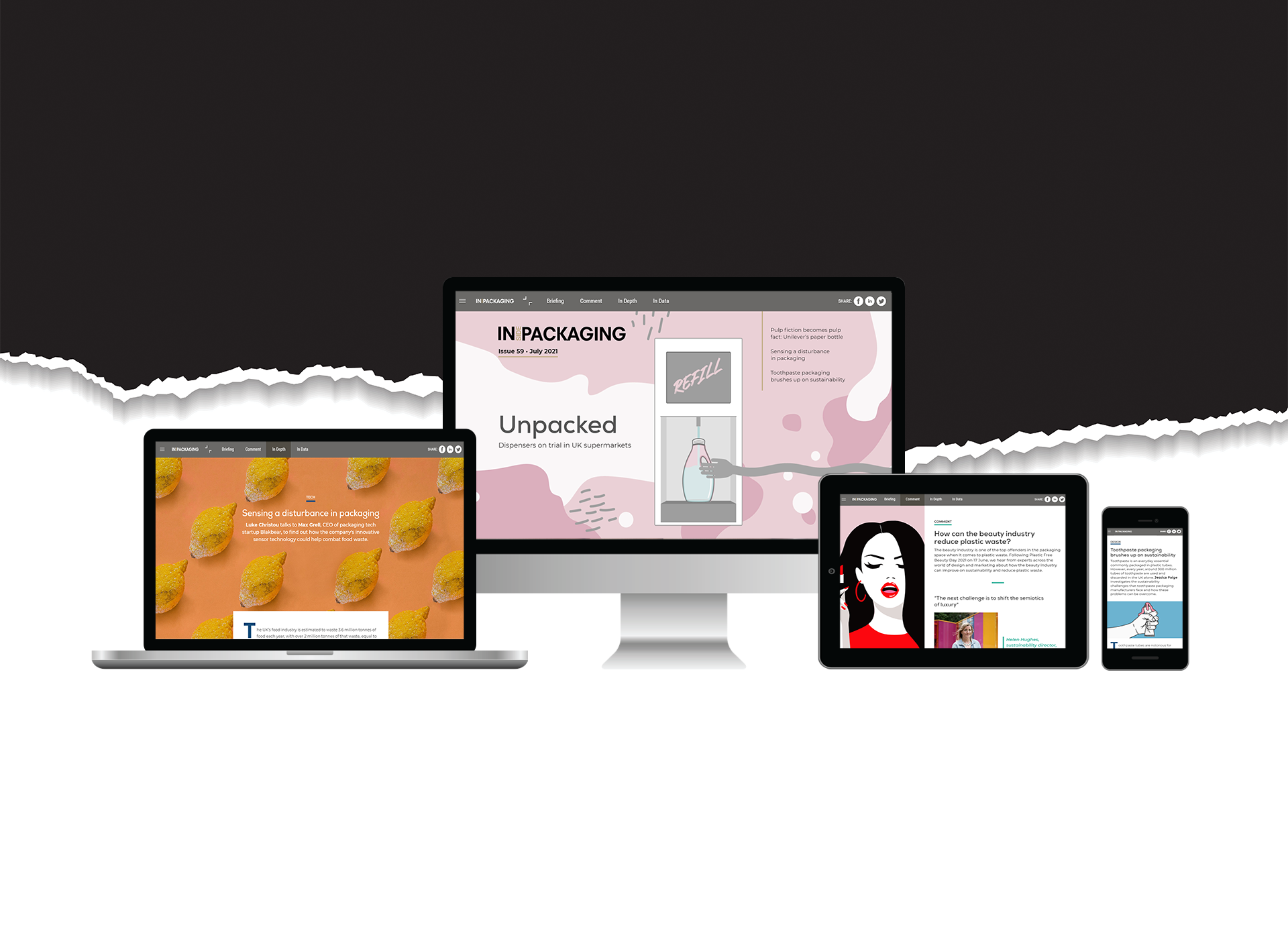 When it comes to sustainable packaging, a clear emerging trend is the reusable or refillable packaging concept, which has seen growing momentum following the success of projects such as Loop. However, this concept also works with in-store dispenser stations.
Inside Packaging is available on all devices. Read it here for free on your computer, tablet or smartphone.
I remember talking to my mother a few months ago about the rise of refill/dispenser stations. She informed me that she would regularly visit The Body Shop in Brighton in the 1970s, where the shop was full of refill and dispenser stations.
Lo and behold, roughly half a century later and we're seeing the idea spread. In our cover story this issue, we take a look at the dispenser options recently trialled across several UK supermarkets, and the early success they've seen. I'm unsure if The Body Shop has continuously held its refill policy since 1973, but it certainly does have one now. It's funny how these things have come full circle.
As well as this, we look at some new packaging concepts that have recently emerged. Firstly, we find out about London-startup Blakbear's sensor technology, which aims to use packaging to tackle food waste. We also speak to Unilever about its newly announced paper bottle concept to find out how it can challenge plastic.
Elsewhere, we look at the efforts being made to make toothpaste packaging more sustainable, what the beauty and cosmetics industries need to do to reduce plastic and deliver on eco promises, as well as finding out the benefits of third party packaging solutions.
In this issue
How can the beauty industry reduce plastic waste?
The beauty industry is one of the top offenders in the packaging space when it comes to plastic waste. Following Plastic Free Beauty Day 2021 on 17 June, we hear from experts across the world of design and marketing about how the beauty industry can improve on sustainability and reduce plastic waste.
A lot to unpack: supermarkets trialling refills
Recently, UK supermarkets have been trialling packaging-free dispensers to cut plastic use. Alex Love takes a look at how successful these pilots have been, what products have been trialled, and how close we are to a nationwide roll-out.
Toothpaste packaging brushes up on sustainability
Toothpaste is an everyday essential commonly packaged in plastic tubes. However, every year, around 300 million tubes of toothpaste are used and discarded in the UK alone. Jessica Paige investigates the sustainability challenges that toothpaste packaging manufacturers face and how these problems can be overcome.
Sensing a disturbance in packaging
Luke Christou talks to Max Grell, CEO of packaging tech startup Blakbear, to find out how the company's innovative sensor technology could help combat food waste.
Pulp fiction becomes pulp fact: Unilever's paper bottle
In June, Unilever announced the development of a paper-based laundry detergent bottle to debut in Brazil in 2022, with ambitions to roll out to other countries soon after. Jessica Paige speaks to Colin Kerr, R&D packaging director for Unilever, to find out more about the product.
Resin shortage renews focus on plastic alternatives
Resins are some of the most used materials in packaging. However, packaging industry professionals are finding themselves having to find alternative materials due to serious disruptions to the supply chain earlier this year. Jessica Paige investigates alternatives to common plastic resins.
Next issue preview
In the next issue, we'll be taking a look at the ever-present drive towards industry 4.0, finding out the latest developments in automation and digitalisation for packaging.
Inside Packaging is available on all devices. Read it here for free on your computer, tablet or smartphone.