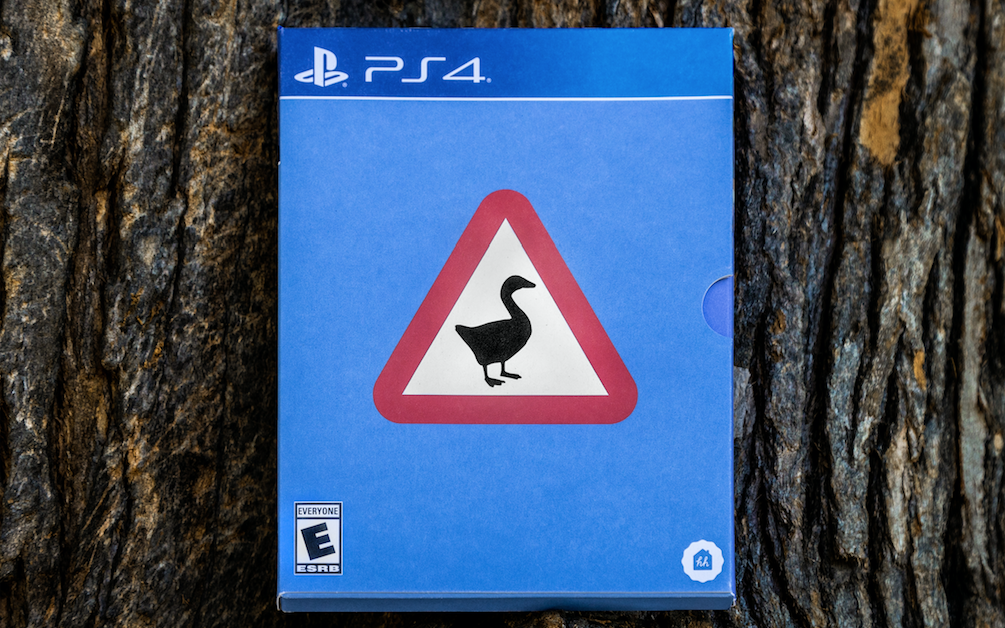 Last week, iam8bit revealed the "first-ever official eco-focused" Playstation 4 (PS4) game packaging for the game Untitled Goose Game developed by Australian independent video game company House. The packaging, named The Lovely Edition, uses no plastic unlike most video game packaging, and is made using 100% post-consumer, recycled material.
Packaging Gateway talked with iam8bit co-owners Amanda White and Jon Gibson to find out what makes the packaging eco-friendly, what inspired the idea, and what the audience response has been to the packaging.
Jessie Paige: How did you originally come up with the idea to make eco-friendly packaging for Untitled Goose Game?
Amanda White and Jon Gibson: iam8bit is headquartered in Los Angeles, so we bear witness to many of the effects of climate change, right in our own backyard – droughts, wildfires, poor air quality, displaced wildlife, etc. We're also big believers in the idea of evolutionary business practices, never getting stuck in our ways.
Fans have come to look to iam8bit as leaders in the physical goods space, which serves to further fuel our desires to innovate. It helps the industry as a whole, and it's much easier for a small company like iam8bit to make nimble strides to achieve this end, because giant corporations accomplishing things of this nature requires cutting through a lot more red tape.
JP: Playstation games traditionally come in plastic boxes, has the plastic casing been completely ditched and how did Sony react to your idea?
AW and JG: Yes, for the 'Lovely Edition' of Untitled Goose Game, the package is made entirely of high-quality, post-consumer paper material, and the component pack-ins like booklet and foldout village map are also made from sustainable and recycled material.
Sony has always been very collaborative and supportive. We've been working with them for over a decade across physical games, vinyl soundtracks and marketing projects, so our dialogue is very open, and they are a very enthusiastic partner. We're grateful that they embrace innovation and trust iam8bit to try new things.
JP: You describe the packaging as "eco-focused", what does this mean exactly?
AW and JG: "Eco-friendly" is the easiest way to describe the packaging, because it takes an ecologically forward approach in its engineering and material sourcing. The predominant goals are to reduce the use of plastic as much as possible, to minimise and eventually zero out carbon footprints by keeping production and materials sourcing locally conscious, and to implement sustainability across all components.
JP: You said "the box comes wrapped in Biolefin", could you tell me why you picked this material and why it is eco-focused?
AW and JG: One of the most wasteful parts of consumer products is the shrink-wrap that makes it feel "new" and "fresh." Biolefin is the best alternative we found to traditional shrink, because its material composition is biodegradable.
JP: You have already seen enthusiastic feedback from your audience, why do you think gamers have reacted so positively to this news?
AW and JG: Everyone cares about the health of the planet, but unless a choice to be more environmentally responsible is very clearly laid out, it's really difficult to find your own path. We think fans have been enthusiastic because we're being really transparent about our approach and our wanting to make a difference.
There isn't a barrier to entry if you want to sample a healthier path for packaging. It's a tiny glimpse into the crystal ball of the future so, with the support of fans, we can start to change the overall conversation and convert lots of publishers over to more eco-friendly pursuits.
JP: You said: "We see this box as an important first step towards eliminating the use of environmentally-harmful materials in games cases". What is the next step?
AW and JG: It's important that we keep the conversation around eco-friendly packaging alive. The more people who read about it and talk about it, the more interest there will be in continuing on an upward trend of environmental responsibility.
Change only happens when there is a consistent swirling noise being made, so the very nature of your interview is helping us to perpetuate awareness. So thank you!
We encourage fans to retweet and post about our eco-friendly approach to packaging if they believe in it. Help us spread the word if you like what we're doing.