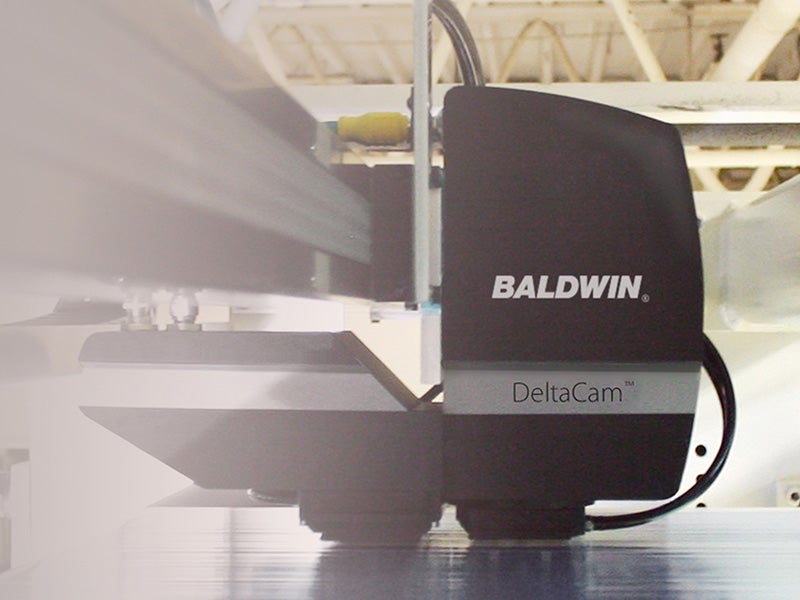 Across industries, the rapid pace of technological evolution is forcing companies to quickly adjust and plan for how they can best incorporate these technologies into their business. Automation has been of particular note, for its ability to change both manufacturing processes and the workforce itself. Going forward, technologies such as this are likely to dramatically transform the way in which industries operate at all levels of the supply chain. This kind of transformation can cause uncertainty as markets look to adapt and increase flexibility, and with the added concern of shifts such as Brexit it can be tricky to predict how to best position around new technology. We speak to BALDWIN Vision Systems to find out more about how the UK packaging market is currently handling this uncertainty and the part that new technologies are likely to play as the industry moves forward.
Callum Tyndall: Could you give us an overview of BALDWIN Visions Systems and what it offers?
Steve Matthews: BALDWIN Vision Systems designs and manufactures the industry's most advanced colour management and inspection technology solutions to help printers achieve print quality perfection. By automating workflows, we help printers manage increasingly complex requirements and exacting standards. We enable them to dramatically reduce waste, prove their print quality, and reduce customer rebates.
CT: What would you say the current state of the UK packaging market is?
SM: Despite the uncertainties surrounding Brexit—particularly as no agreement has yet been reached—the UK packaging market is still on an upward growth trend and investment in new machinery with the inclusion of automation and control systems is also on the rise. Investment in automation will continue to be an essential competitive strategy, as volatile exchange rates and price increases in raw materials put greater emphasis on improved production efficiency as a means to stave off price pressure and preserve margins.
New challenges requiring printers and converters to reduce plastic waste are driving the market increasingly towards alternative substrates, new designs and more eco-friendly packaging. As a result, brand owners are re-writing brand standards, tightening tolerances and increasing the urgency to maintain the colour integrity of printed colours representing their products. Thus, colour measurement and management systems allowing printers to accurately measure and print to specific spectral targets—despite the unknowns surrounding future substrates, changing inks, changing press conditions, etc.—will continue to be an important strategic investment.
CT: Where do you think the market is headed, what are the developments to look out for?
SM: Automation and data-connected workflows are prevalent in almost every kind of manufacturing operation. Package printers have been a bit behind in adopting automated solutions—especially in colour management. Printers regularly cite colour management as their most pressing challenge, mainly due to brand and version proliferation, increasingly complex colour standards, and the need for tighter process control in both colour management and defect management. The printers and converters best positioned to succeed will be those that connect their entire colour workflow—from initial colour specification, to ink blending and correction and management of press conditions—to real-time colour measurement data of the printed product. Achievement of absolute colour fidelity in short-run environments is as much about managing people, processes and data throughout the workflow as it is about colour reproduction on the press itself.
CT: Automation seems likely to be one of the biggest transformational factors, how are you incorporating automated solutions?
SM: We are in the business of designing and manufacturing automated solutions. Data-connecting technology allows printers to track and compare many different production metrics. Press managers can monitor changes as they happen, and make highly-informed decisions about print quality, defect management, and even operator-to-operator performance. We offer a unique competitive advantage, in that our solutions tie together how you manage your processes, your print customers, and even your people. You're empowered to quickly identify any mechanical issues, process inefficiencies, or even tailor your operator training to eliminate defects. We are developing new technology platforms that open the door to build even more functionality into the system.
CT: What would you say the industry needs to be concerned about going forward?
SM: Printers and converters must treat near-term capital spending projects as opportunities for strategic investment, rather than merely a chance to add or upgrade equipment. Piecemealing operations with multiple-manufacturer, single-function equipment purchases that work only in isolation and can't communicate across the workflow is not viable long-term.
Printers should select technology and service providers with an ecosystem of integrated products capable of managing all their hardware, process control, data management, quality monitoring and support needs on smart, connected platforms. Smart, connected platforms give printers the ability to communicate across workflows, valuable data for LEAN initiatives, process improvements and standardization, and reduce their dependency on the varying skillsets of a disappearing print workforce. Furthermore, they serve as future-proof investments, enabling them to quickly add capabilities and services through downloadable software upgrades without necessarily requiring further capital investments.
CT: Finally, is there anything else we should know about? Anything on the horizon the industry should be keeping an eye on?
SM: Smart tools by themselves cannot solve all printers' problems. Process changes and standardisation must accompany the implementation of any new technology to minimise press-to-press, run-to-run, shift-to-shift and operator-to-operator differences in the way these tools are used. The presence of an internal technology champion is essential. A champion takes ownership for making sure tools are used correctly and consistently, staff are regularly trained, and updated standards are implemented and documented.