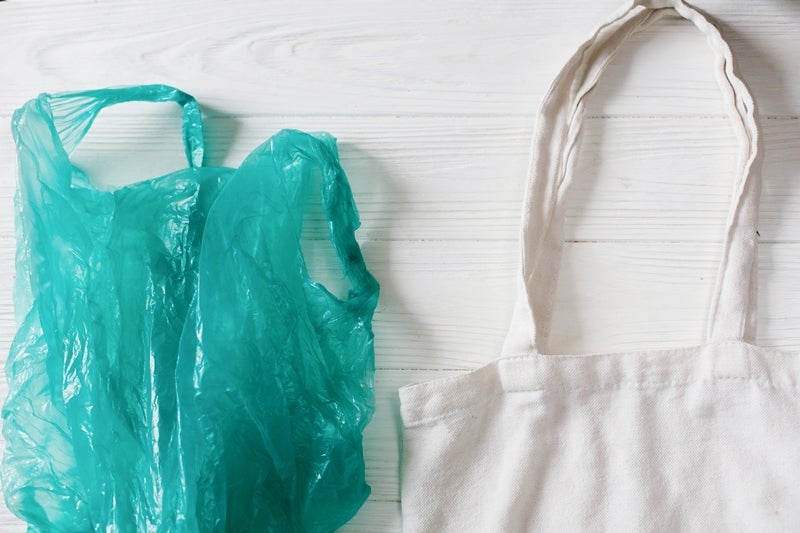 Earlier this week, the UK government announced that the current 5p charge on single-use plastic bags in shops will increase to 10p from April 2021 onwards.
The decision to double the plastic bag charge across all retailers in England followed a positive response from the public regarding the policy. As part of this new policy, small retailers – which employ less than 250 people – will no longer be exempt from the levy.
Environment secretary George Eustice said that the government does not see a total ban on single-use plastic bags as "necessary or appropriate" due to the "success" of the 5p charge, which was introduced in England in 2015.
Eustice said: "This carrier bag charge has been a tremendous success – it was introduced in 2015 applying first to the major supermarkets. It will be extended to all retailers from April – this is a policy that has had widespread public support.
"Just introducing that small charge on a plastic bag makes people think twice and as a result supermarkets have seen a 95% reduction in single-use plastic carrier bag use.
"We don't think a total ban on single-use plastic bags is necessary or appropriate, because this charge has been remarkably successful."
Packaging Gateway talked with packaging experts, brand design company Echo creative director Andrew Capper and lighting retailer Houseof co-founder Michael Jones about the charge increase and whether or not it will affect the environment and the packaging industry.
Jessie Paige: Will this charge increase stop consumers using single-use plastic bags?
Andrew Capper: Absolutely not. As part of most family's weekly shop, that 5p difference will be invisible and overall will, at best, have a tiny reduction.
Michael Jones: The fundamental key here is how do you change consumer behaviour, and historically cash penalties have not always proved to be the driving force you might think. Just look at the amount of speeding tickets and driving fines issued every year if you need guidance. Ultimately, this charge may force customers to think slightly more about whether they need additional bags, which can only be a good thing, but they are not prohibitively expensive enough to put customers off entirely. 
JP: Is Eustice correct in saying a total ban is not necessary to help the environment?
AC: I defer to the likes of Ellen MacArthur, who have spent more time building an understanding and expertise on this topic than any politician. We're either trying to eradicate or severely limit single-use plastic or we're not. We're past the point where marginal reductions in our use of unrecoverable resources are going to make any difference and halt climate change.
MJ: The extreme option is a ban but this "one size fits all" approach also has consequences. Typically, this kind of prohibition has been extremely difficult to police in the past and not had the desired results. There are also considerations around things like perishables, fragile items and medications and other items that simply wouldn't work with paper bags. The best route to changing behaviour is always to invest in education. Empowering consumers with a knowledge-based understanding of the issue.
JP: Do you think this charge increase is a good idea?
AC: No. It's been proven time and again that even large financial penalties do nothing to change the root causes of our behaviours. We need to be looking at other solutions that 'nudge' us toward changes in our lifestyles.
MJ: I think a gradual shift and incremental change in customer behaviour which benefits the environment and reduces landfill can only be a good thing. If this has even a 5% positive impact, then it has done its job.
JP: Will this increase affect the packaging industry?
AC: A total ban would certainly focus the minds of both industry and consumers, but plastic bags are only one small application of single-use plastics. The packaging industry is incredibly diverse. Paper, pulp, metals, as well as plastics: every part has a duty to behave more sustainably, but has its own set of independent challenges, investment and infrastructure needs.
MJ: We are in the process of developing the next stages of our own environmental strategy, and as a lighting retailer one of the things we have to think about extremely carefully is packaging fragile items with enough care while not creating additional waste. We are already seeing innovative companies like Haeckels and Seedlip develop mycelium packaging from mushroom, so there is no reason that the next big innovations in carrier bags can't employ new sustainable materials and technology.
Inevitably those producing cheaper single-use polythene bags will be the hardest hit, but if there's one thing certain in business it's change. Adaptability and listening to the changing tide will be the only way these companies can survive in the modern economy.