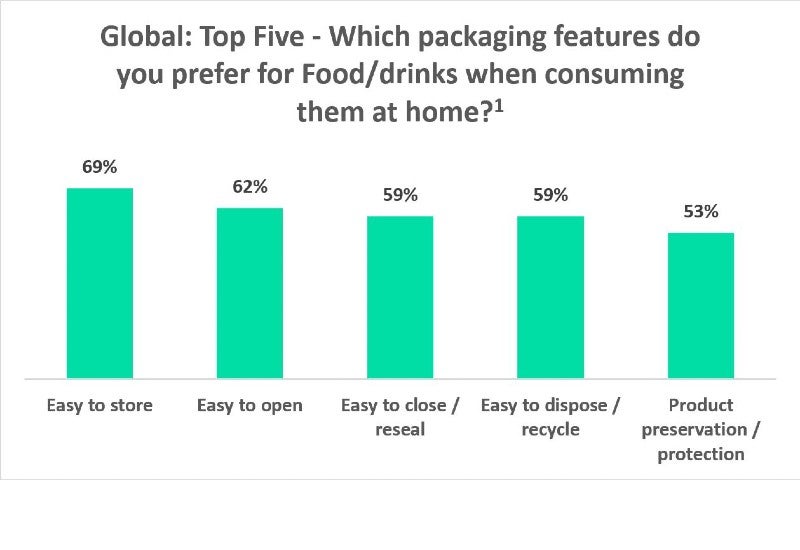 Notably, according to GlobalData, the fifth top feature consumers prioritised in food and drink packaging when at home is product's preservation or protection, tying into concerns around food hygiene and safety. Easy to store and reseal were two other top contenders, again underpinning consumers' preference for convenient and safe food products that can have a long-lasting shelf life. Whilst already a priority, such packaging features are likely to take a more drastic turn in the face of the coronavirus pandemic. The attention paid to germ-free surroundings is likely to achieve its peaking point, elevating hygiene-related expectations towards product packaging.
Plastic packaging, commonly perceived as most reliable in terms of hygiene, could be now seen as posing a significant health risk as new findings indicate the Covid-19 virus can survive for up to 72 hours on its surface. In an attempt to reduce the possibility of contracting the potentially deadly disease, shoppers may start to carefully inspect packaging materials and opt for paper and paperboard-packaged goods, in which it has only a 24-hour survival rate.
These demands could be applied in all FMCG categories – from fresh food to personal care and household care, forcing brands to adjust packaging types under the pressure of the current situation. This could bring an opportunity for growth for brands such as BillerudKorsnäs. The company specialises in sealed paper packaging made from renewable fibres from Scandinavian forests. Primarily designed for dry foods, the packaging format could also fit into the stockpiling trend that can be observed among bulk-buying shoppers.
The emerging 'anxiety economy', in which consumers prioritise a sterile environment, could encourage brands to use paperboard as the main packaging material, in a bid to ensure a safe product image while also aligning with sustainability trends. While hygienic use and disposal of the packaging is the current priority for many shoppers, the low carbon footprint of paperboard offers an important environmentally-friendly benefit.