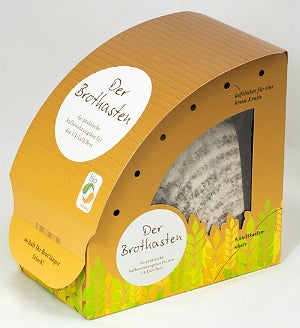 Innovia Films' compostable, cellulose-based material, NatureFlex™, is being used in a new pack design that can keep bread fresher for longer and helps to prevent food waste.
VerDeSoft is a Nuremberg-based packaging design company, which works with several partners (including Innovia Films) to develop new and innovative packaging solutions.
The 'breadbox' prototype pack is made of board and shaped like a real breadbox, with a roll down top and transparent window. It is sized to hold an individual (quarter) portion of a loaf of bread.
Thomas Reissig, founder of VerDeSoft, explained: "End-users are increasingly looking for packaging which not only looks good, but offers green credentials in addition to protecting the product inside. This pack ticks all of these boxes and more."
The NatureFlex™ NK film used in this window application begins life as a natural product, wood (from managed plantations operating on good forestry principals), and breaks down in a home compost bin (or industrial compost environment) within a matter of weeks.
It also offers advantages for packing and converting, such as inherent dead fold and anti-static properties, high gloss and transparency, resistance to grease and oil, good barrier to gases, aromas and mineral oils and a wide heat-seal range.
"We are delighted to have supplied our NatureFlex™ film for this prototype pack. This is another great example of designers coming up with innovative packaging solutions that cater for individual portions and keep products fresher for longer," enthused Holger Eschenburg, sales manager, Innovia Films.
Innovia Films will be exhibiting in Hall 4, Stand 4-517 at FachPack in Nuremberg from 25-27 September 2012.
VerDeSoft's sister company and technological arm, VerDeTech, will be showcasing the breadbox prototype pack and other new packaging concepts, alongside relevant automated technology in Hall 9, Stand 9-535 at FachPack in Nuremberg, from 25-27 September 2012.