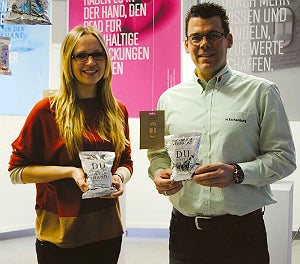 A German design student has put the spotlight on renewable packaging materials thanks to Innovia Films' products and a unique collaboration between several partners.
Sabine Zits is an undergraduate at the FH Aachen University of Applied Sciences. As part of her Bachelor of Arts course work, Sabine decided to promote renewable materials.
Innovia Films helped by providing samples of its NatureFlex™ product range of materials from renewable resources.
Sabine explained: "I decided to show designers what is already possible for packaging by having some real life samples of potato chips (crisps) made up with a clear renewability message. Metallised and clear NatureFlex™ films were used for the bags and I would like to thank Holger Eschenburg from Innovia Films and all the partners involved for their help with this project."
The crisp packs were made in collaboration with several partners, most notably, Intersnack, the brand owner of the German, funny-frisch potato chip brand. The NatureFlex™ films in this application were laminated by Allflex and printed using a machine at the University of Stuttgart. The packs were displayed at an exhibition of all the undergraduates' project work in Aachen.
NatureFlex™ films are certified to meet the American ASTM D6400, European EN13432 and Australian AS4736 standards for compostable packaging. The wood-pulp is sourced from managed plantations. The renewable biobased content of NatureFlex™ films is typically 95% by weight of material according to ASTM D6866.
Holger Eschenburg, Innovia Films' sales manager Germany, enthused: "We were very pleased to be able to facilitate this project – where designers of the future, like Sabine Zits, can showcase the advantages of our NatureFlex™ packaging films to their peers, contemporaries and industry at large."
Offering advantages for packing and converting, NatureFlex™ films have inherent deadfold and anti-static properties, high gloss and resistance to grease and oil, good barrier to gases, aromas and mineral oils and a wide heat-seal range.
NatureFlex™ begins life as a natural product – wood – and breaks down at the end of its lifecycle in a home compost bin (or industrial compost environment) within a matter of weeks. It is also confirmed as suitable for emerging 'waste to energy' techniques, such as anaerobic digestion.
---
Image: Sabine Zits, design student, from the University of Aachen, with Innovia Films' sales manager Germany, Holger Eschenburg, with the crisp packs made from renewable NatureFlex™ films (Photo © Sabine Zits 2013).