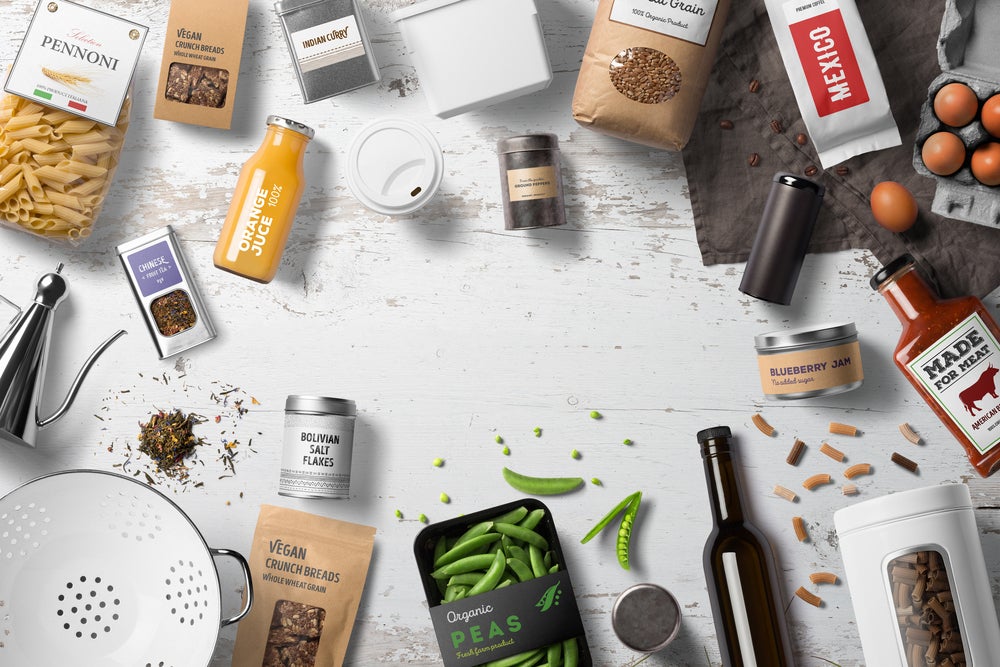 ESG continues to be a hot topic for the packaging sector and alongside Covid, it has presented the packaging industry with a number of challenges over the last two years.
During this period, Westrock Co overtook International Paper Company as the biggest packaging organisation based on total annual revenue, according to Packaging Gateway's parent company GlobalData.

Packaging companies continue to share their ESG targets and are being encouraged to create environmentally-friendly investments and partnerships as well as overcome operational challenges quickly due to pressure from consumers, board members and environmental organisations.
2022 saw most of the world move beyond the pandemic and instead new global issues such as inflated prices and the war in Ukraine affected the revenue streams of many organisations, including packaging ones. In this new year, sustainability and digitalisation remain high-ranking themes for the packaging sector to navigate if businesses wish to see profits, but who are the top ten companies to watch in 2023?
Packaging Gateway's Ryan Ellington uses GlobalData's Packaging Intelligence Centre data to discover the top ten packaging companies to look out for in 2023 based on company activities during 2021 and 2022.
Top ten packaging companies of 2022 (US$)*
*based on GlobalData's Packaging Intelligence Centre data from 2022
Westrock
International Paper Company
Amcor Plc
Berry Global Group Inc
Ball Corp
Oji Holdings Corp
Stora Enso Oyj
Smurfit Kappa Group Plc
UPM-Kymmene Corp
1 Westrock Co – $21.3bn
( +1 Ranked 2nd in 2020 )
In 2022 US paper and packaging solutions business Westrock Co reported full-year net sales of $21.3bn for the fiscal year ending September 2022 (FY2022), an increase of 13.4% compared to $18.75bn the previous year. 
In the midst of the global pandemic, Westrock saw a slight dip in net sale profits for FY20 ($17.58bn) but recovered with record net sales of $4.8bn and a 40% increase in net income in the third quarter of FY21.
The corrugated packaging company which has a market capitalisation of $12.35bn recorded fourth-quarter sales of $5.4bn during FY22, an increase of 6.1% ($312m) year over year.
Westrock managed to boost its earnings through ventures such as its $47m investment in the expansion of its manufacturing facility in North Carolina, and partnerships with Heinz and US-based liquid packaging and dispensing solution provider Liquibox. By the end of the first quarter of FY2022 ending December 2021, the corrugated packaging company had announced record Q1 sales ($4.95bn) starting off the fiscal year with a firm foot forward.
"I am pleased with our strong performance during the first quarter of FY22, in which our teams delivered record first-quarter sales and double-digit earnings per share (EPS) growth while navigating the continued and unpredictable macroeconomic landscape," Westrock CEO David Sewell said at the time.
"Our team remains relentlessly focused on partnering with our customers to help them meet their needs for sustainable paper and packaging solutions as we deliver on our overall transformation initiatives," continued Sewell. "Looking ahead to fiscal 2023, we will continue to strengthen our business as we drive innovation across our portfolio."
2 International Paper Co – $19.4bn
( -1 Ranked 1st in 2020 )
Having previously held the top spot, International Paper Co dropped down to second position having posted a 10.2% increase in sales for the fiscal year ending December 2021(FY2021). The producer of renewable fibre-based packaging and pulp products, which has a market capitalisation of $16.85bn, posted sales of $19.36bn for the year.
The first half of the year was the most profitable as the company recorded net sale profits of $10.98bn ($5.36bn in the first quarter and $5.61bn in the second quarter) coinciding with the easing up of worldwide lockdowns. International Paper Company which operates three business segments – industrial packaging, global cellulose fibers and printing papers – recorded the majority of its net sale profits through industrial packaging ($16.3bn).
In 2021, the packaging company managed to complete the acquisition of two corrugated packaging businesses Cartonatges Trilla SA and La Gaviota, S.L, moulded fibre packaging company Berkley MF and two corrugated packaging plants in Spain.
2023 will see the completion of a new corrugated packaging plant in Atglen, Pennsylvania to meet the growing customer demand in the region.
3 Tetra Laval International SA – $16.3bn
(Non-mover)
Data compiled by GlobalData shows that Tetra Laval International accumulated a total net sale income of $14.48bn for FY2020. This figure was a decrease of 6% on the $15.42bn earned in 2019, no doubt a subsequent effect of the pandemic.
The Switzerland-based company, a provider of comprehensive solutions for processing and packaging earned its net sale profits through the trading of its three business groups Tetra Pak, Sidel and DeLaval. FY2020 saw revenues of $1.22bn for DeLaval and $1.44bn for Sidel, whilst flagship brand Tetra Pak brought in the majority of its revenue, $11.94bn.
In a bid to continue driving profits and boosting sustainability efforts, June 2021 saw Tetra Pak invest US$110.5m in expanding its factory in Châteaubriant, France. This followed the introduction of certified recycled polymers, becoming the first company in the food and beverage packaging industry to be awarded the Roundtable on Sustainable Biomaterials (RSB) Advanced Products certification.
Industry experts say there is a direct correlation between increased profits and companies with proactive environmental practices. In December 2021, Tetra Pak was recognised as a leader in corporate sustainability having been the only company in the carton packaging sector to be included in the non-governmental transparency organisation CDP's leadership band for six years running.
2022 saw Tetra Laval's largest subsidiary Tetra Pak engage in its first collaboration with food processing technology incubator Fresh Start, an initiative to improve food systems resilience.

4 Amcor Plc – $14.54bn
(Non-mover)
Packaging solutions provider Amcor Plc recorded sales increases of 3.2% for the fiscal year ending June 2021. Amcor which has a market capitalisation value of $17.33bn posted total sales revenues of $12.86bn for FY2021.
The packaging company has experienced year-on-year revenue growth from FY2017, seeing its biggest growth in FY2020 where there was an increase of $3.01bn over FY2019. The end of FY2021 saw its full-year net income also increase by 53% (from $327m to $939m), whilst the net profit margin sat at 7.3%.
The pandemic affected many businesses but Amcor was able to maintain its year-on-year growth from FY2018. The UK headquartered company made notable moves within the sector throughout FY2021. In April 2021, it invested almost $15m in US-based packaging firm ePac Flexible Packaging and US-based management consulting firm McKinsey & Company (McKinsey) to develop recycling and waste management solutions for use in Latin America.
2022 saw Amcor invest nearly $100m in opening an advanced manufacturing plant in Huizhou, China. The plant will provide jobs to over 550 employees and improve productivity in the area, producing flexible packaging for food and personal care products.
In a bid to further increase profits and provide sustainable packaging options, Amcor developed AmFiber, a sustainable alternative to plastic.
"We have a multi-generational plan. We see this as a global platform in our enterprise. We're building multiple plants, we're making investments," Amcor's chief technology officer of flexibles operations William Jackson told Packaging Gateway in an exclusive interview. "What's next for Amcor is beginning a global rollout and investment plan, while we work on a multi-generational plan."
5 Berry Global Group Inc – $14.5bn
(New entry)
Berry Global, a specialist manufacturer in plastic consumer packaging announced an increase of 18.3% for the fiscal year ended October 2021 (FY2021). The packaging company which has a market capitalisation of $8.04bn announced total revenues of $13.85bn for the fiscal year.
Headquartered in Evansville, Indiana, US, Berry Global has managed to more than double its total annual revenue from FY2016 ($6.49bn), maintaining a steady year-on-year increase throughout. Moves such as the introduction of a new polyethylene terephthalate (PET) spirit bottle designed for the e-commerce market have helped the packaging specialist increase its revenue.
The plastic company reported a 22% growth in net sales for the fourth quarter (Q4) of FY2021 compared to the same period of FY2020. The company's consumer packaging sales for the quarter grew by 12%, driven by increased selling prices of $109m due to inflation.
Through innovation, partnerships and addressing sustainability concerns Berry Global looks set to build on its financial achievements in 2023. The plastic packaging manufacturer partnered with brands such as personal care brand Ingreendients, US food company Mars and US-based food company McCormick to produce packaging from recycled contents for their various products.
6 Ball Corporation – $13.8bn
(+1 from 2020 ranking)
The fiscal year ending December 2021 (FY2021) saw Ball Corporation (Ball Corp) report a 17% increase in revenue. The metal package solutions provider which has a market capitalisation of $30.06bn recorded total revenues of $13.81bn.
Since 2017, metal package solutions provider Ball Corp has experienced a steady upwards yearly revenue growth, with the exception of 2019 where total revenue dropped by $161m. Net income for Ball Corp has also seen year-on-year growth recording an all-time high of $8.78m in 2021. Net profit margins for FY2021 was 6.4%, an increase of 28% growth on FY2020.
Ball Corp was able to strengthen its foothold in the metal packaging industry during 2021 through investments, expansion and innovation. May 2021 saw Ball Corp re-enter the B2C market with a US-wide, retail rollout of the 'Ball Aluminium Cup' whilst in October 2021, subsidiary company Ball Aerospace opened a new state-of-the-art Payload Development Facility (PDF) in Colorado.
In 2022, the metal packaging company continued to make headway with its aim of building a sustainable future through moves such as expanding its partnership with events specialists Sodexo Live! The partnership aims to help lower the environmental impact at landmark venues across Canada and North America through the use of Ball Aluminum Cups.
7 Oji Holdings Corp – $13.1bn
(-2 from 2020 ranking)
Paper manufacturing firm Oji Holdings Corp (Oji Holdings) suffered its second loss in two years as it recorded a 9.86% decrease in total sales revenue for the fiscal year ending March 2021 (FY2021). The Japanese-based company with operations across Asia, Australasia and the Americas has a market capitalisation of $5.15bn and reported revenues of $12.82bn for FY2021.
The company which operates under four business segments saw most of its profits take place within household and industrial materials ($5.47bn), a decrease of 5.6% from the previous year. Its forest resources and environment marketing brought in a revenue of $2.07bn whilst printing and communications media sales earned $2.06bn and functional materials had a profit of $1.54bn.
Like most businesses, Oji Holdings was impacted by the pandemic. In saying this, there were some profitable ventures such as Nestlé using the Oji Group's paper for the wrapper of its popular KitKat chocolate bar in Japan, which assisted its revenue stream. The Japanese company also established a new corrugated container plant in the southern province of Dong Nai, Vietnam.
October 2022 saw the paper manufacturer announce a partnership with Japanese food company Bourbon Corporation where paper packaging was the chosen material for its premium cookie 'Luxary Lumonde'. The company also announced in October the launch of its innovative 'CellArray' product, a nanostructured cell culture substrate for use in regenerative medicine and drug discovery.
8 Stora Enso Oyj – $12bn
(+2 from 2020 ranking)
Finland-based paper and packaging company Stora Enso released figures of an 18.8% increase in total revenue for the fiscal year ending December 2021. The producer of paper products and biomaterials has a market capitalisation of $15.35bn and reported total revenues of $12.02bn for FY2021. The company's sales for Q3 FY2021 totalled ($2.9bn), representing a 23.9% increase from the same period of FY2020.
Stora Enso operates in six segments, including packaging solutions ($25m), wood products ($399m) and biomaterials ($557m). The three most profitable operating segments last year were packaging materials ($607m) and forest ($684m), however, its paper segment took a loss of $465m.
The Finnish company is one of the world's largest private forest owners, owning or leasing land covering a total area of 2.01 million hectares, according to GlobalData. Investment in innovation and sustainability is key this year and 2021 saw Stora Enso invest $70.23m in future growth.
Bidding to step into the future through innovation, December 2022 saw Stora Enso announce the opening of a new lignin granulation and packing plant at the company's Sunila biomaterials production unit in Finland. The use of lignin in granulated form will further support the development work of Stora Enso's hard carbon bio-based battery material Lignode, which is made from lignin.
Plus, the Finnish packaging company announced a partnership with refillable grocery provider Dizzie in October 2022 to provide consumers with packaging made from biocomposites in order to help reduce packaging waste.
9 Smurfit Kappa Group Plc – $11.95bn
(-1 from 2020 ranking)
Smurfit Kappa Group Plc (Smurfit Kappa), providers of paper packaging solutions recorded total sales revenue increases of 18.49% for the fiscal year ending December 2021. The Ireland-headquartered company which has a market capitalisation of $12.18bn announced total sales revenues of $11.09bn for FY2021.
The company that operates paper mills, recovered fibre facilities and converting plants in Europe and the Americas invested throughout 2021. Smurfit Kappa ploughed its finances into a number of investments including four major ones across the Czech Republic and Slovakia, a $13.2m investment in a Spanish flexible packaging plant and a $28.7m expansion of its corrugated plant in France.
"This investment will allow us to grow further and improve our quality of service to the food and industrial markets that we serve," said Smurfit Kappa Europe Corrugated and Converting chief operating officer Edwin Goffard at the time.
The first six months of FY2021 saw Smurfit Kappa gain corrugated growth of over 10% and over 9% versus 2020 and 2019 respectively. This time period also saw an 11% growth in revenue.
2022 saw the Ireland headquartered business announce a EUR7m investment at Smurfit Kappa LithoPac plant in Nybro, Sweden in May and then in November, it completed a EUR20m investment in its Central and Eastern European operations.
10 UPM-Kymmene Corp – $11.6bn
(New entry)
Finnish developer of thinner and lighter materials UPM-Kymmene Corp (UPM-Kymmene) posted a 14.4% increase in revenue for the fiscal year ending December 2021. The company which serves various industries has a market capitalisation of $18.19bn and recorded total revenue sales of $11.61bn.
The company which manufactures and supplies a range of renewable and recyclable wood-related products had a sales decrease of 2% to $2.46m in Q1 of FY2021, compared to the $2.52m recorded in Q2 of FY2020. Although it suffered a slight dip in revenue due to higher prices of pulp and energy, sales in Q3 FY2021 increased by 24% to $3.06m compared to $2.23m in Q3 FY2020.
Its subsidiary companies UPM Raflatac (labels) and UPM Specialty Papers both operate in the packaging value chain and have a total revenue of $3.4bn. Combined with UPM-Kymmene's other subsidiary companies, FY2021 saw UPM-Kymmene finish with its second-highest net income in five years ($1.52bn).
Industry experts say that companies that wish to be financially successful will have to pay due diligence to sustainability targets and consumer concerns. UPM seems to have an eye on the future as it strives to reach its environmental goals. In November 2022, UPM officially opened a new combined heat and power (CHP) plant in Germany, which will bring the company closer to meeting its target of decreasing its CO2 emissions by 65% by 2030.
The Finnish manufacturers also released news in December 2022 that seven of its packaging papers are now industrially compostable, offering businesses a fully sustainable packaging option.