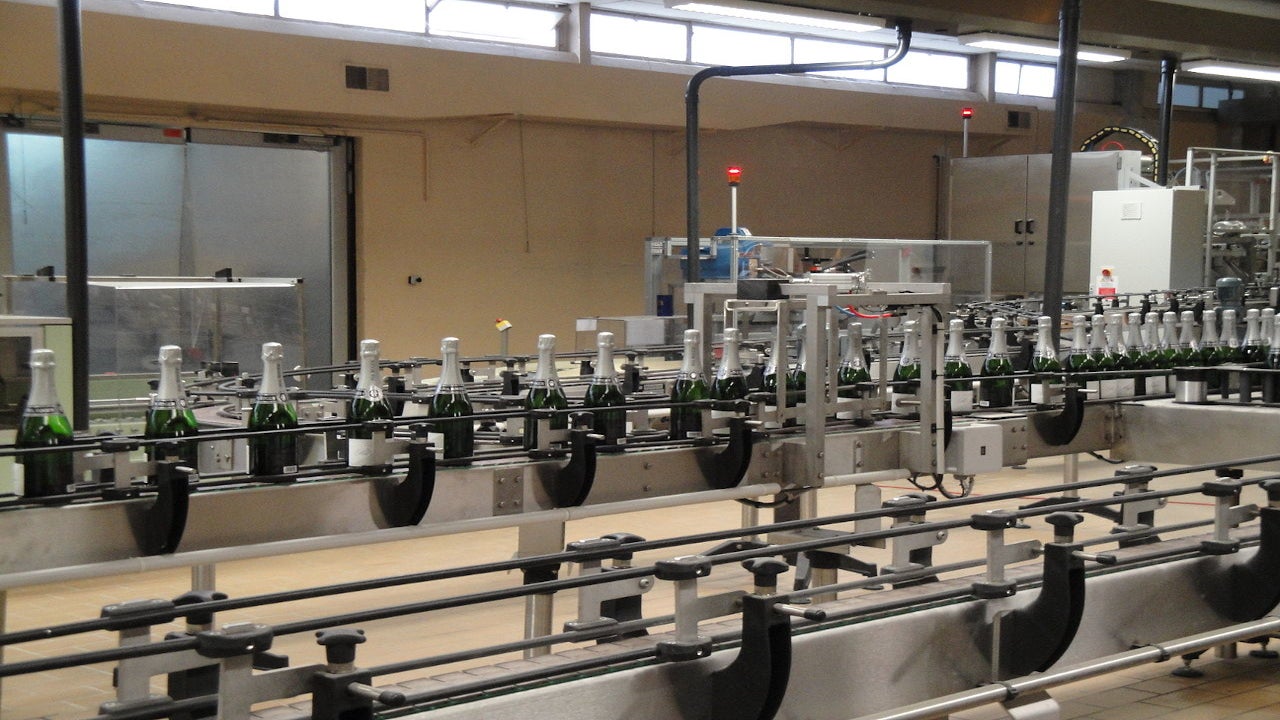 Packaging equipment is constantly going through evolution and transformation to suit the applications and sustainability requirements of diverse industries, including food & beverage, pharmaceuticals, agriculture and automotive.
Packaging Gateway lists the top ten packaging equipment manufacturing companies based on their innovation, technology and product lines.
1. Tetra Laval
2. Krones Group
3. Barry-Wehmiller Companies
4. Coesia Group
5. Syntegon (Bosch Packaging Technology)
6. Marchesini Group
7. Aetna Group
8. Berhalter
9. Adelphi Group of Companies
10. Fuji Machinery
1. Tetra Laval, Switzerland
Tetra Laval includes three industry groups, Tetra Pak, Sidel and DeLaval that reported net sales of $15.6bn in 2019. The company has a combined workforce of 35,976 people.
Tetra Pak is a food packaging and processing company with 55 production plants and 31 marketing companies across Europe, Central Asia, the Americas, Asia-Pacific, and Greater Middle East and Africas. It provides end-to-end processing, packaging and service solutions.
Sidel offers blowing, filling, labelling, material-handling, and end-of-line solutions for packaging food, beverage, home and personal care products. It has designed more than 1,000 packaging lines to date. Approximately 40,000 Sidel machines are currently in operation across 190 countries. The company is continuously innovating its PET packaging solutions to reduce the environmental impact.
DeLaval is a farming and dairy equipment producer that provides solutions for milking, cow comfort, farm management, feeding and milking essentials. The company operates in more than 100 markets in Africa, the Americas, Asia-Pacific and Europe. Its innovation in dairy herd management such as DeLaval calf feeder CF1000S, and milking cluster DeLaval Evanza™ has received top honours in the industry. DeLaval's Parlour milking system P500 is the first parlour with three cow flow control modes and no sequence gates in the floor.
2. Krones Group, Germany
Krones develops and manufactures components, complete lines, and machines for the processing, filling and packaging of beverages and liquid food, meeting all the requirements of beverage and food processing companies. It had approximately 5,900 registered patents and utility models, as of December 2019.
The company's offerings include complete factories, lines for process technology, filling and packaging lines, intralogistics, IT solutions, and recycling systems for polyethylene terephthalate (PET) and PO under portfolio segments including Digitalisation, Process Technology, Bottling and Packaging Equipment, Intralogistics and Lifecycle Service.
Headquartered in Neutraubling, Germany, the company operates more than 100 sites with approximately 17,300 employees worldwide. The company has 21 production facilities in the US, Europe, Brazil, Africa and Asia. It employs 24% of its workforce in emerging markets to leverage the market growth in the emerging economies.
The company earned a revenue of $4.4bn in 2019. It is expanding its environmental sustainability programme, Enviro with several innovations, including Modulfill NWJ for filling high-viscosity products, a real-time service with smart glasses called Argos, PET-ASEPT D dry sterilization for small batches, Craftmate G, and VarioFlash B.
3. Barry-Wehmiller Companies, USA
Barry-Wehmiller supplies manufacturing technology and solutions to diverse industries including, packaging, paper converting, sheeting, corrugating, engineering and information technology. With the business of approximately $3bn, the company has a workforce of more than 12,000 people worldwide.
The BW companies include Accraply, BW Flexible Systems, BW Integrated Systems, Pneumatic Scale Angelus, and Synerlink (packaging systems business), BW Papersystems (paper processing equipment), Paper Converting Machine Company, and Winkler + Dünnebier (tissue and film converting equipment), and Design Group (engineering and IT consulting).
BW Packaging S​ystems offers a range of packaging lines for primary packaging, wet and dry filling, seaming and capping, as well as rigid and flexible form-fill-seal.
Barry-Wehmiller has more than 90 companies in over 100 locations in 28 countries across North America, South America, Europe, Asia and Oceania.
4. Coesia Group, Italy
Coesia Group incorporates 21 companies providing industrial and packaging solutions for diverse sectors including ceramics, aerospace, consumer goods, electronics, healthcare, luxury goods, pharmaceutical, tobacco, racing and automotive.
Based in Italy, Coesia Group is wholly owned by Isabella Seràgnoli. The company reported $2.2bn in revenue with a major contribution from Europe (26%) followed by North America (22%), Asia (24%) and other (21%) in 2019. Coesia's domestic market contributed only 7% of the total revenue in 2019.
The company has 82 production plants and 135 operating units across 35 countries with more than 8,500 employees globally. It holds 1,190 patents, of which 5% of the patent applications are associated with sustainable innovation. Coesia launched 29 new products related to sustainable innovation in 2019.
Norden, Tritron, Volpak, R.A Jones, SASIB, MOLINS, MGS, GDM, GF, IPI, HAPA, Flexlink, EMMECI, CIMA, COMAS, CITUSKALIX, ACMA, Atlantic Zeiser, CERULEAN and System Ceramics are the companies of the Coesia Group.
5. Syntegon (Bosch Packaging Technology), Germany
Syntegon offers processing and packaging technology, equipment and services to the food and pharmaceutical industries. It provides process technology, solid dosage forms, liquid dosage forms, inspection technology and secondary packaging solutions for the pharmaceutical industry.
For the food industry, the company provides filling machines for liquid food, process technology for confectionery, horizontal packaging, vertical packaging and secondary packaging solutions. The company earned a revenue of $1.4bn in 2019 and has 2,000 patent inventions.
Syntegon also offers intelligent solutions, including sensors, software and databased services under the Industry 4.0 portfolio.
Headquartered in Waiblingen, Germany, Syntegon has its presence in more than 30 locations in over 15 countries in Europe, America, Asia-Pacific, Middle East and Africa with a workforce of over 6,100 people. The company has installed approximately 64,000 machines worldwide.
6. Marchesini Group, Italy
Marchesini Group provides machines and lines for pharmaceutical and cosmetic sectors. It earned a revenue of $493.8m and acquired three new companies, namely Carlo Corazza, FVM and Auteco Sistemi, in 2019.
The company utilises state-of-the-art technologies to develop innovative machines that employ artificial intelligence (AI) and robotics for standard or customised machines and lines to maximise production with improved product quality and process safety.
Marchesini owns 477 patents in several countries and operates in more than 68 countries across the US, Mexico, Europe, Asia and the Middle East. It operates ten production facilities in Europe and employs more than 1,315 people.
7. Aetna Group, USA
Aetna Group offers a range of solutions such as semi-automatic wrapping machines with smart technology and automatic solutions with innovative technology for industrial wrapping, shrimp wrapping, cartooning and other packaging processes.
It operates seven manufacturing facilities, of which five are is located in Packaging Valley, Italy, one each in the US and Brazil. The company has nine subsidiaries in the USA, France, Germany, Brazil, the UK, Russia, China and Spain.
Aetna Group has its presence in more than 120 countries with approximately 900 employees. The five brands of the company, including ROBOPAC, ROBOPAC SYSTEMS, ROBOPAC PACKERS, IMSB ROBOPAC and TOPTIER ROBOPAC, generated $224m in revenue in 2019. The company has installed more than 150,000 machines worldwide.
8. Berhalter, Switzerland
Berhalter offers packaging solutions for food, beverages, petcare, pharmaceuticals and non-food sectors. The company is engaged in the process of constant innovation for sustainable packaging solutions.
Its die-cutting machines incorporate Industrial Internet of Things (IIoT) platform CUTcontrol™ technology for digitalisation and improved product performance. The die-cutting solutions of the company support print shops and food manufacturing companies to automate and optimise their die-cutting processes.
Other innovative technologies of the company include BEAMstack™ Robot Generation with innovative Paternoster System for smooth modification of product sizes, LABEL-light™ Tool, PRElaser™ laser system, and SMARTembosser™ for sealing rim-embossing.
9. The Adelphi Group of Companies, UK
Adelphi Group comprises Adelphi Manufacturing, Adelphi Masterfil, Pharma Hygiene Products Ltd and Adelphi Healthcare Packaging.
It provides a broad range of packaging and processing machinery and equipment to diverse industries, including pharmaceutical & healthcare, cosmetics & personal care, food & beverage, lube oil, e-liquid, adhesives & sealants, veterinary, essential oils, household chemical, and agrochemical.
Based in Haywards Heath, UK, Adelphi Group operates through four divisions, including pharma hygiene products, packaging machinery, laboratory equipment and healthcare packaging. It has three buildings on-site, including the eco-friendly manufacturing facility, The Friary, which has reduced the company's environmental footprint significantly. The company reported $20.1m in revenue in 2019.
10. Fuji Machinery, Japan
Fuji Machinery is a leading Japanese automatic packaging machinery manufacturer with six international subsidiaries across, Europe, Asia, US and Africa. It has a workforce of 669 people and distribution network in Europe, Asia, Africa and the Americas.
The company is a pioneer in applying electronic controls and robotics in the packaging industry. Its horizontal pillow wrapping machines are continuously undergoing through improvements to suit future needs.
The FLAN system centrally controls various equipment in the packaging process. The company has 54 types of machines to flexibly respond to various packaging needs.