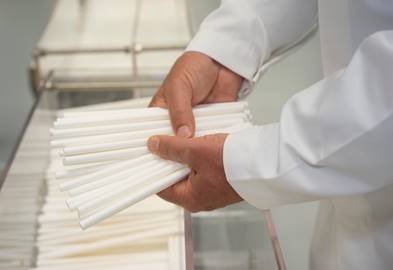 Welsh sustainable paper-straw manufacturer Transcend Packaging has acquired the assets of Leeds-based BioStraw.
The acquisition will see BioStraw transfer its production over to Transcend Packaging where it will focus on bringing new products to market and licensing its intellectual property.
The BioStraw senior management team will join the Transcend Packaging team, which has seen fast growth after opening its first site in South Wales just a year ago.
The company aims to be a global leader in offering alternatives to single-use plastics for commercial use in the food and beverage manufacturing, food service and health and beauty sectors.
Transcend is already working with global fast-food chains McDonald's and KFC, supplying eco-friendly straws in line with the UK Government's target of removing all plastic straws by 2020.
Transcend Packaging CEO Lorenzo Angelucci said: "We are pleased to welcome the leadership group from BioStraw into Transcend Packaging's team. The BioStraw team has developed a reputation for innovation and product quality and they will help strengthen our strong production and marketing capabilities as we scale into new markets and international production in the months ahead."
Former BioStraw managing director Mark Mitchell said: "We are honoured to be joining the Transcend Packaging team. Transcend has emerged as the UK market leader for paper-straw production with a strong portfolio of major multi-national clients. We look forward to helping Transcend bring new innovations to market while helping expand to new markets across Europe and beyond."
Angelucci told Packaging Gateway: "We are seeing that consumers believe that making environmentally friendly decisions is becoming more important to them. Brands are catching on that consumers are factoring in packaging sustainability when they are making their purchase decisions.
"Consumers are increasingly indicating they are willing to pay a little bit more for their products in order to have more environmentally friendly packaging. Many consumers think brands are not doing enough to introduce environmentally friendly packaging and I believe they are increasingly switching brands based on the sustainability of the packaging.
"Continued investment is required in recycling infrastructure to keep up with the advances in sustainability being achieved in packaging."