Alpro to feature ProTerra labelling mark on soy drink packs
Grocery brand Alpro is set to display the ProTerra certification labelling mark on soya drink packs.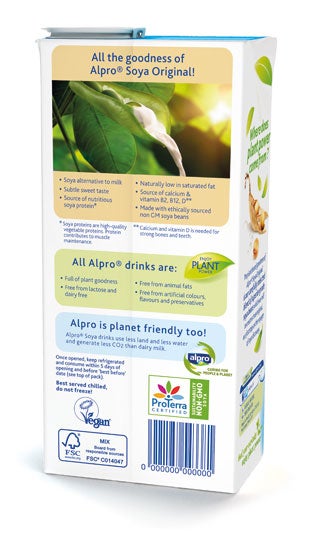 Grocery brand Alpro is set to display the ProTerra certification labelling mark to inform consumers that the soya used in its soya drink packs is not genetically modified (GM) and is sustainably sourced.
The certification trustmark will appear on all the company's on-shelf drinks in the UK.
Alpro has collaborated with its suppliers in order to develop a control system to verify that its products are GM free. Each link in the production line and each individual lot of soya beans is traceable and identifiable from farmer to store shelf.
The whole supply chain has a strict quality assurance and control system, which is audited and certified by independent international body Cert ID Europe against the ProTerra certification standard.
The certification also highlights the protection given to the rights of workers and indigenous people and the preservation of the Amazon and other high-conservation-value areas.
Non-GM labelling on packs is already common in some European countries, and its authorisation in the UK enables consumers to make a choice about the kind of products that they purchase.
The trustmark provides an assurance that the soya beans used for the company's products are of the highest standard and that their origin from the farm to the fridge is regulated carefully.
Alpro UK commercial director John Allaway said that the company's plant-powered products are naturally better for the planet.
"Alpro is convinced that transparent and clear information to the consumer is key and producers need to provide consumers with the freedom to make food choices," he said.
---
Image: Alpro's use of the ProTerra certification trustmark will appear on all its drinks on-shelf in the UK. Photo: courtesy of ProTerra Foundation.