Sidel unveils aseptic blow-fill-cap technology for beverage manufacturers
PET solutions provider Sidel has launched a new integrated aseptic blow-fill-cap solution for beverage manufacturers.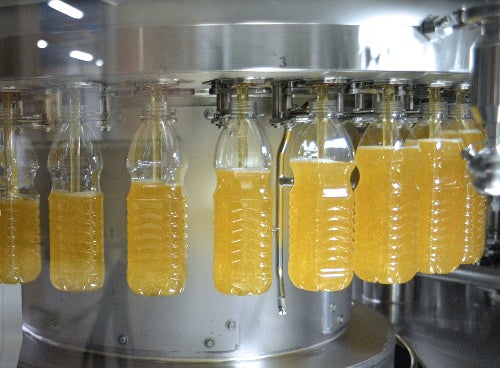 PET solutions provider Sidel has launched a new integrated aseptic blow-fill-cap solution for beverage manufacturers.
The low-output Combi Predis / Capdis FMa technology is based on dry-preform and cap decontamination technology, Predis and Capdis, and has a standard output of 12,000 bottles per hour for a 1l bottle.
According to the Swiss company, the solution has the capacity to accommodate high as well as low-acid products, packed in all common bottle volumes between 0.2l and 2l, with outputs of up to 16,000 bottles per hour.
Sidel aseptic product manager Guillaume Rolland said the solution addresses demand for low-output innovation for juices, nectars, teas and also liquid dairy products, including UHT milk.
"It leverages our unrivalled innovation in aseptic dry-preform and cap technology, maintaining beverage quality and protecting liquid packaging from microorganisms," Rolland said.
Sidel's Predis and Capdis technology enables the sterilisation of all types of preforms and caps within an integrated blow-fill-cap solution, besides offering environmental benefits.
The technology employs hydrogen peroxide mist and provides 100% decontamination of the bottles and caps without the need for water and with little chemicals.
Sidel claims that the whole aseptic Combi equipped with dry-preform and cap decontamination minimises costs by up to 30% per year.
Dry-preform-decontamination technology, which improves food safety, helps to protect liquid packaging from microorganisms and prolongs the shelf life of sensitive drink products.
With a capability to handle products for ambient distribution, it can also extend the shelf life of products when distributed in the cold chain.
It can contribute to reformulate naturally sensitive products that were originally packaged with preservatives.
Combi Predis / Capdis FMa's linear design enables it to be accommodated into new or existing plants through its ultra-compact footprint, and also allows for parallel packaging machines.
The system provides total freedom of bottle design, as bottles are blown from decontaminated preforms and the empty bottle does not endure any thermal stress, and enables beverage producers to customise their bottles with a range of caps, whether flat or sport caps.
---
Image: Sidel's Combi Predis/Capdis FMa technology has a standard output of 12,000 bottles per hour; Photo: Courtesy of TETRA LAVAL GROUP