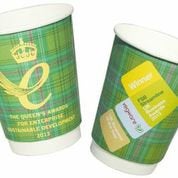 Compostable food packaging company Vegware has bagged the Queen's Awards for Enterprise in Sustainable Development, for developing zero-waste foodservice packaging.
Vegware founder and managing director Joe Frankel said the company responded to the challenge of foodservice packaging that can be recycled after use.
"Our solution of certified compostable catering disposals and full recycling support is helping the UK's biggest operators meet sustainability targets and save money," Frankel said.
The UK company says the award is a recognition that it has been making a positive contribution to the economy and global sustainability.
In order to celebrate, the company has designed its own original Vegware Tartan and announced its expansion into Australia.
The Tartan is green with highlights of burgundy, pink, blue and white.
According to Vegware, the latest award adds to the company's collection of 23 awards and two Scottish Parliamentary Motions.
The Foodservice Packaging Association chief operating officer Martin Kersh said, "This is a fantastic and well earned achievement for Vegware and their talented team, and we are delighted the foodservice packaging industry has been recognised by the award of such a highly prestigious accolade to one of our members.
Vegware develops, manufactures and distributes a range of compostable catering disposables, made from recycled and sustainably-sourced eco materials.
The company has operations in the UK, US, South Africa, Central Europe and distribution from Iceland to Portugal.
---
Image: Vegware's compostable cups; Photo: Courtesy of Vegware