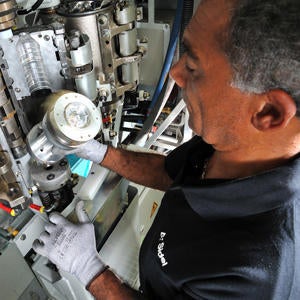 Mexican bottle manufacturer Alpla and stretch blowmoulding machine manufacturer Sidel have partnered to supply 900 million bottles annually over the next eight years to ArcaContinental, a Coca-Cola bottler in Latin America.
Alpla will join Sidel and produce most of the bottles inline, which would result in the reduction of shipping operations and stocking costs as well as optimise delivery times and by limiting the bottles' exposure to physical constraint, ensure optimal bottle quality.
Sidel, which supplied equipment to Alpla, said that small volumes of bottles will be produced in an offline production hall on 11 SBO Universal2eco blow-moulding machines and 1,200 moulds.
All the bottle shapes from 250ml to three litres will be created by Alpla on the new blowmoulders, which can produce up to 2,200 bottles per hour and are equipped with 6 to 26 cavities.
Some of the machines are capable of producing up to 21 different shapes and sizes.
According to Sidel, the order was placed with the company in August 2011 and the shipments took place between November 2011 and February 2012.
The new machines, which are due to be installed in six Mexican plants, are expected to commence operations in the coming weeks.
Alpla technical and purchasing director Martin Stark, commenting on the partnership, said, "We have a lot of experience with Sidel in Mexico and the fact that Sidel has a strong organization in this area was essential to us."
Earlier, Alpla had field-tested Sidel's format changeover system Bottle Switch and the energy-saving new oven configuration, the Ecoven.
Image: Over the next eight years, Alpla will supply 900 million empty bottles per year to ArcaContinental
Photo: Sidel