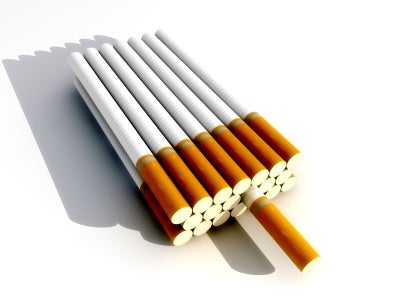 Australia's new plain packaging laws on cigarette and tobacco came into force on 1 December 2012.
The new standardised packaging substitutes brand logos and colours with generic coverings, shocking pictures of diseased body parts and pictures of children and babies who have become ill as a result of their parents smoking.
The only difference between packs, besides the differing health warnings and images, are the brand names, which are all printed in small font in similar fashion.
Under the new laws, all cigarette packets are required to be coloured a uniform olive-brown, with health warnings and graphic images covering 75% of the pack front and 90% of the back.
The laws ban brand logos, and the brand name can only be printed by the tobacco companies at the foot of the packets in small, identical fonts.
The regulations aim de-glamourise smoking to younger generations by replacing the logo and advertisements with graphic depictions of teh effects of smoking.
The new laws come on the heels of Australia's High Court ruling supporting the government's initiatives to curtail smoking.
Australia, which aims to reduce the number of smokers from 16% of its population to 10% by 2018, already has the lowest rate of smoking in the world, and the new legislation is not expected to have substantial impact on the profits of tobacco companies.
The laws have been opposed by tobacco companies, who claim that the plain packaging makes brands easy to copy and reproduce, thereby increasing the chances of forgeries
---
Image: Australia's new plain tobacco packaging regulations come into force. Photo: Salvatore Vuono