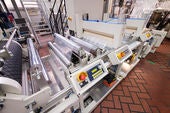 BASF's new tailor-made polyamide coextrusion line has started production of flexible packaging and technical films on an experimental basis at its Ludwigshafen site in Germany.
With business partners from the film industry, the company will use the line to develop new applications for Ultramid polyamides.
At Ludwigshafen site, BASF will also use its new line for research, product development and material testing for Ultramid film products.
The new line, which is ideal for production of test quantities and application testing for new film products, can manufacture cast and blown films with up to seven layers.
BASF's global polyamide and intermediates business unit senior vice president Hermann Althoff said the Ultramid will allow its customers to produce sophisticated film structures.
"The new coextrusion line will enable us to develop new film applications for specific market needs in partnership with our customers," added Althoff.
The new line can extrude symmetrical and asymmetrical films 20µm to 250µm thick and up to 750mm wide at a rate of up to 50m per minute.
Blown films produced at new line can be air-cooled and additionally cooled with water if required while the cast films are cooled on a chill roll with an adjustable temperature of between 20°C and 130°C.
Ultramid films can be produced with less packaging material for flexible packaging solutions.
---
Image: Polyamide coextrusion line. Photo courtesy of BASF.