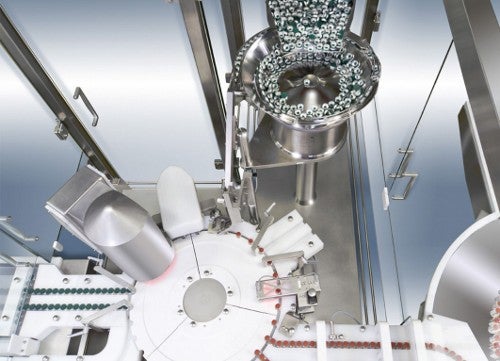 Bosch Packaging Technology has developed a new sealing machine for injection and infusion vials, which achieves an output of 120 containers per minute.
Equipped with sensitive control systems, the new compact VRT 1010|1020 can also be combined with barrier and containment systems, and meets the current EU Good Manufacturing Practice (GMP) requirements, while ensuring better capping.
VRT 1010|1020 takes over the filled and plugged injection and infusion vials from a filling machine or a rotary table through single or double lane, depending on the version.
According to Bosch, the vials pass through all working stations in a conveying starwheel with counter guidance, while a camera-based sensor performs the stopper presence check, prior to capping.
The sealing machine guides the containers with a missing or an incorrectly placed stopper to an outward station, and the correctly stoppered containers continue to the capping station.
Through a tow-off chute, the caps are attached loosely after being picked up from the conveying system, while the containers are rotated, clamped through a plunger and tilted against a freely revolving roller with the help of a servo-controlled tilting movement.
Bosch Packaging Technology product manager Dieter Bandtel said VRT 1010|1020, which meets the latest technical production standards, can also handle toxic products properly.
"The combination of releasing the containers from the transport system and the freely rotating capping roller ensures an especially low-particle process," Bandtel said.
VRT 1010|1020 comes with a camera which checks whether the capping process has taken place and the caps have been optimally crimped.
The machine sends the containers that do not meet requirements into an additional reject station, while the correctly closed injection and infusion vials are transported to a traying-off station or onto a discharge belt.
VRT 1010|1020 is also equipped with a touch-screen that allows for easy handling and enables the storage and reproducibility of format specific settings, Bosch said.
---
Image: The new VRT 1010|1020 from Bosch meets the current EU Good Manufacturing Practice (GMP) requirements. Photo: Courtesy of Bosch.