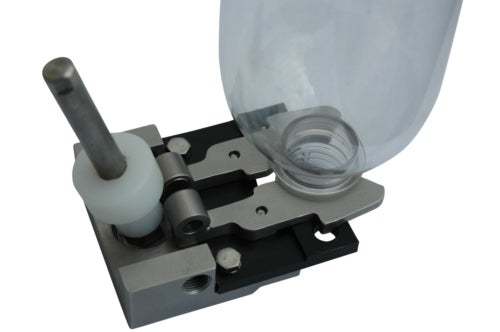 US-based BTS Precision Manufacturing has introduced a new bottle inverter for Procomac bottling machinery, designed to provide precise operation and bottle control.
The BTS01677 magnetic bottle inverter features magnetic operation and precision construction and is machined to exacting tolerances from materials using software processes to provide improved performance and longevity, the company said.
The inverter, which is manufactured from the stainless steel Delrin, serves as a replacement for standard OEM bottle inverters.
During the sanitising process, the BTS01677 offers ease of operation, wear characteristics as well as bottle control.
According to BTS, the inverter is positioned during the process, transferred for filling and is magnetically operated for positive control of the bottle.
Compared to other replacement inverters, the new system offers durability and provides benefits through less frequent parts replacements that can cause increased operating and maintenance expenses, the company claims.
The durability of the parts will help reduce downtimes and rejected finish products associated with worn and inaccurate parts and the need to replace them.
To create the bottle neck tension, the BTS01677 bottle inverter uses magnets instead of a springs as problems caused by failing springs, which result in fewer problems that could impair bottling line throughput, will be eliminated by the inverted magnetic polarity approach.
The company produces bottling and packaging machine parts for Procomac, Krones, Alcoa, AROL, Zalkin, and OCME.
Image: The BTS01677 is manufactured from stainless steel and serves as a replacement for standard OEM bottle inverters. Photo: BTF Precision Manufacturing