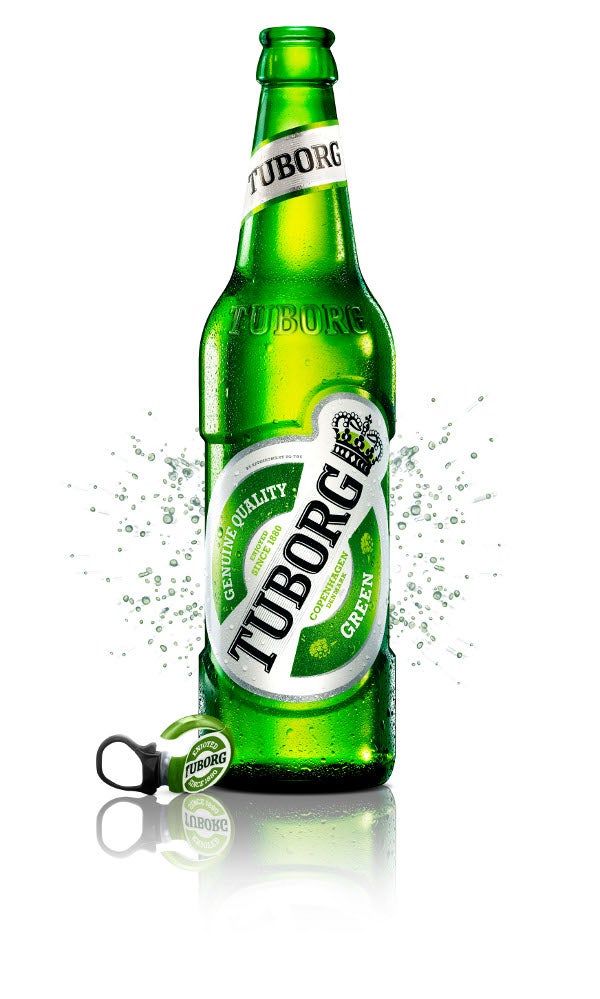 Carlsberg India has unveiled a new packaging and visual identity for its beer brand Tuborg, as part of its global enhancement programme.
According to the Denmark-headquartered company, the brand's new look was inspired by the needs of Indian consumers and is aimed at giving them a global experience.
The redesigned visual identity for Tuborg includes a new logo, label and a re-designed bottle. Also adding to the brand's new feel is the new tagline, 'Open for fun,'
The logo is displayed diagnonally with Tuborg written in black, and beside the text, a graphical representation of the bottle cap is given in green with a vibration effect.
The label has been designed so that the logo becomes horizontal when the bottle is tilted at 62.5°, and can be viewed by others without having to tilt their heads when the drinker drinks from the bottle.
International brand design agency Turner Duckworth has created the bottle design, making it curvier and easier to grip.
The new Tuborg is expected to be launched in 330ml and 650ml packages across India by the end of May 2012.
Launching the new design, Carlsberg India managing director Soren Lauridsen said Andhra Pradesh state was the biggest market for Carlsberg India, where it had an 8% market share.
"Tuborg's new offerings not only reinforce the brand image but also emphasise our commitment to innovate," Lauridsen added. "The new packaging and labelling of Tuborg Strong would push the sales further."
Image: Tuborg's new packaging includes a new logo, label and a re-designed bottle. Photo: Carlsberg Group.