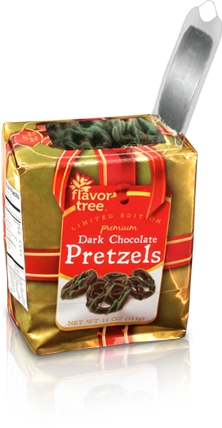 Clear Lam Packaging has used the PrimaPak packaging system to produce a new reclosable package for Flavor Tree chocolate pretzels.
Produced on a PrimaPak vertical form-fill-seal (VFFS) machine, the technology has been designed to replace heavy rigid packaging.
It achieves up to 70% weight savings compared to plastic jars, cutting down warehousing demands and truck shipments and enhancing sustainability initiatives throughout the supply chain.
The PrimaPak package comes with a peel and reseal lid that opens easily and stays open, and also reseals to the package with a light touch. The package is available in different shapes and sizes, including cubes, hexagons and octagons.
Clear Lam Packaging CEO James Sanfilippo said that the PrimaPak machine has allowed the company to showcase the package's vertical strength and stackability.
"The package is made from a single roll of film on a PrimaPak bagging machine and it's really easy for consumers to use and then throw away," Sanfilippo added.
Clear Lam operates three manufacturing plants in the US and China, specialising in printed films, rigid rollstock and specialised packaging systems. The company is planning additional PrimaPak applications and further product expansions in 2014.
---
Image: Limited Edition Premium Dark Chocolate Pretzels in new PrimaPak package. Photo: courtesy of Clear Lam Packaging, Inc.