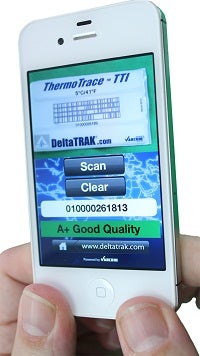 US developer of temperature monitoring solutions DeltaTrak is set to introduce its new ColdTRAK TTI cold chain label scanning technology to track shelf life impact.
The system includes the ColdTRAK ThermoTrace TTI labels and the ColdTRAK ThermoTrace TTI Service and provides product quality information to the user who can scan the label with a smartphone-based reader.
According to the company, the free application displays a predefined product quality message on the reader's screen when a label is scanned by the ThermoTrace TTI Service.
If the product has not experienced any temperature excursions, a message will say either 'good', 'fresh', 'sell immediately' or '80% shelf life remaining', as customised by its customers will pop up on the screen.
The message might read 'do not sell,' if the product has experienced extreme exposure to abusive temperatures.
DeltaTRAK president and CEO Frederick Wu said the technology gives customers the exact data they need to maintain product integrity and increase safety and shelf life.
"With our TTI solution anyone can get product quality information instantly. And, because the labels are low cost it is now practical to track shelf life impact down to the carton level," said Wu.
The single-use TTI barcode label, which is activated by pulling a tab, supports a variety of preset time and temperature events. On exposure to temperatures exceeding a threshold level, it records the event and the barcode is changed to enable accurate readings.
The system can also be integrated into any existing cold chain programme, said the company.
Image: The app will display a predefined product quality message on the reader's screen when a label is scanned. Photo: DeltaTRAK