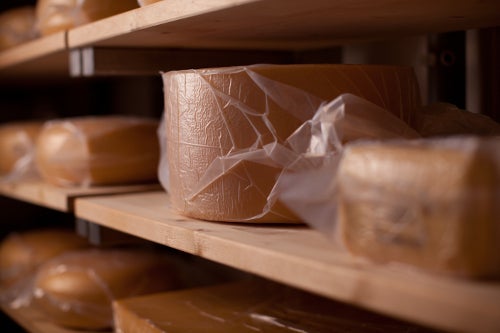 DSM has announced that the company's new cheese-ripening solution has secured bronze in packaging innovation contest 'De Gouden Noot'.
The company's Pack-Age, a ready-to-use packaging solution, is made from Akulon polyamide 6, which produces a film with better mechanical strength and acts as a shield against oxygen, moisture and CO2.
Akulon polyamide 6 delivers properties critical to the ripening and preservation of cheeses.
Pack-Age, which allows hard to semi-hard cheeses to be ripened naturally to the perfect flavour, delivers enough moisture to the cheese to allow it to develop a mature taste and firm texture.
The technology protects against mould growth on the surface which results in a better productivity and lower food waste.
The breathable Pack-Age film increases the shelf life of cheese and reduces product losses associated with the application and removal of the crust.
Pack-Age also offers improved sustainability benefits by reducing the loss of cheese, and requiring less production time due to the crust removal process being done away with.
Akulon polyamide 6 global technical product manager Harrold Goertz said the solutions are crucial for the food industry as tighter legislation and regulations come into force.
"The quality and performance of our polymers for barrier and permeable films can help the industry extend shelf life, maximise profits and reduce food waste," Goertz said.
'De Gouden Noot' is a contest organised by the Netherlands Packaging Centre (NVC) to encourage innovations in packaging and packaged products.
Pack-Age was selected as the innovative business-to-business (B2B) packaging concept from across the value chain from a shortlist of 10 finalists and 40 entries.
---
Image: Pack-Age protects against mould growth on the surface which results in a better productivity. Photo: DSM Engineering Plastics.