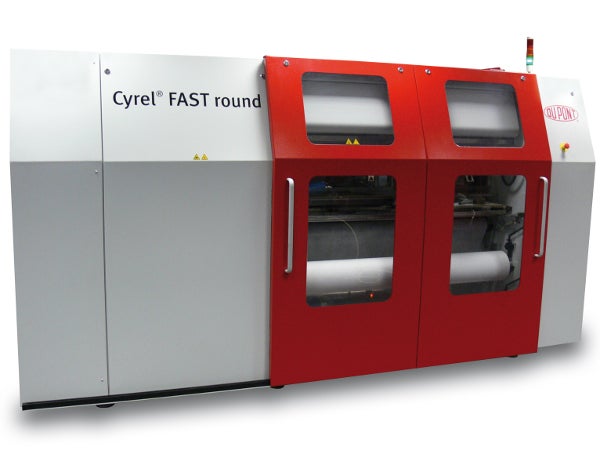 US DuPont Packaging Graphics has introduced its latest additions to the DuPont Cyrel brand flexographic systems portfolio for the packaging industry.
The Cyrel FAST round 1450 FR sleeve making system uses dry, thermal technology to process photopolymer sleeves, eliminating all solvents and aqueous solutions from the plate room, and a digital imager with a UV Inline 2 feature in flat top mode.
The FAST round workflow will be augmented by a Cyrel Microflex Multiple Sleeve mounting system to place multiple Cyrel round sleeves to register on one single print adapter to increase sleeve workflow productivity.
The company also introduced new compressible adapters for the DuPont Cyrel round Workflow by Inometa, featuring a rubber stop and bayonet locking system.
The DuPont Cyrel FAST 3000 TD system is another addition to the portfolio, ensuring uniformity in a 127cm x 203cm format, eliminating size constraints for wide-web printers who want to benefit from solvent-free processing of plate.
The company also introduced the DuPont Cyrel DigiFlow that creates the desired dot shape on a plate.
DuPont Packaging Graphics global marketing manager Edward Baiden said the company is accelerating the development of new technologies that address the market requirements for speed, productivity, quality and sustainability.
The company supplies flexographic plate-making systems in digital and conventional formats, including the DuPont Cyrel brand of photopolymer plates, Cyrel FAST processing equipment, Cyrel round sleeves, mounting and finishing products.
Image: The Cyrel FAST round 1450 FR sleeve making system uses dry and thermal technology to process photopolymer sleeves. Photo: DuPont