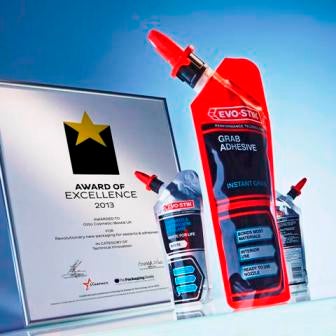 German packaging firm Bischof + Klein, filler OTTO COSMETIC, British adhesive manufacturer Bostik and plastic processor Pöppelmann have secured the British Star Pack Award of Excellence 2013 for joint venture project Evo-Stik.
The Evo-Stik is a stand-up pouch for silicones and adhesives that provides an alternative to traditional cartridge or cartridge gun systems.
The pouches help in saving packaging material and they reduce the occurrence of waste. With a special opening, the pouch can be applied in the desired location simply by squeezing.
Bischof + Klein said that the pouches can be emptied without residues and are equipped with a resealable lid.
The jury's judgement noted: "Clever packaging technology helps the end user to dose and apply the product. So much simpler and cheaper than a dispensing gun."
The project was awarded the prize in the 'technical innovation' category at the awards, presented by the Institute of Materials, Minerals and Mining. The project is now nominated for the international award.
---
Image: Award-winning pouches from Bischof + Klein. Photo: courtesy of Bischof + Klein.