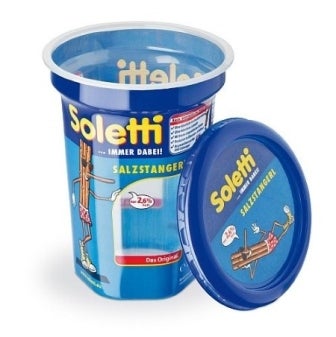 Greiner Packaging has created a new six-cornered thermoformed cup for Austrian snack food Soletti Pretzel Sticks.
The 75g Soletti cup, designed using thermoform technology, is enhanced by high-resolution printed shrink sleeves.
Greiner Packaging Division K head Kenneth Boldog said that the thermoform labelling technology makes Soletti cups adaptable for different products and occasions, and minimises the turnaround time following client requests for changes.
Fitted with a re-closable lid, the Soletti cup is designed to be a better packaging option for busy consumers on the go. It fits well into backpacks, purses, stroller trays and built-in cup holders.
The trend of eating anytime, anywhere continues to rise, and the Soletti cup aims to tap into this trend.
Greiner Packaging is engaged in development, design, production and decoration. It manages its business sustainably, accompanying its partners' packaging projects from concept to completed solution.The company has networks in all regions of Europe.
---
Image: New six-cornered thermoformed Soletti cup. Photo: courtesy of Greiner Packaging.