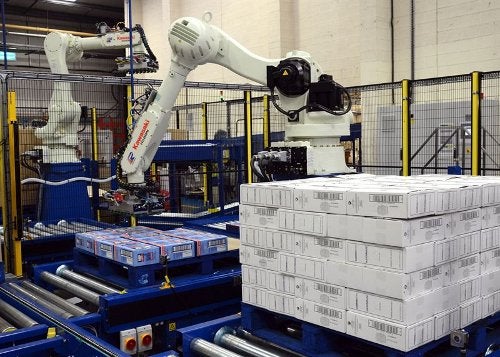 Heinz has installed a new end-of-line palletising system from the US-based Kawasaki Robotics at its Telford production facility in the UK.
The US-based Kawasaki Robotics, having earlier demonstrated a flexible system using its compact Kawasaki RD80 palletising robots, was awarded the contract by Heinz to design, engineer and integrate the technology.
The new system, which palletises 'single serving' sachets from four lines and plastics from a fifth line, consists of five conveyor feeds from each of the filling machines, which take the product to a pick-up location in the robot palletising area.
One of the three robots will handle plastic containers and the other two pick product from the four sachet lines, said the company.
Heinz Telford manufacturing development manager Graham Boyle said as the filling machines were going to be running at the same speed with automation, the actual final outcome of performance was uncertain.
"Soon after the system was commissioned we found that the filling machines' performance increased. The system freed up the operator for each machine allowing them more time to sort materials and organise more effectively," Boyle said.
According to Kawasaki Robotics, the RD80 robots have been programmed to handle up to 13 variants of case with each robot able to palletise onto two pallet locations and with different product palletised on each pallet, if required.
The robot cell receives oriented cases of sachets, which are picked up either one or two at a time and placed onto the pallet, depending on the programme.
The robot cells are controlled using the latest E Series controller from Kawasaki, which controls the robots five axes movement easily and uses its in-built programmable logic control for integration of safety and cell peripheral equipment.
For less stable cartons, the grippers of the robot are designed to handle cardboard layer pads.
---
Image: The Kawasaki RD80 robots can handle up to 13 variants of case. Photo: Cision.