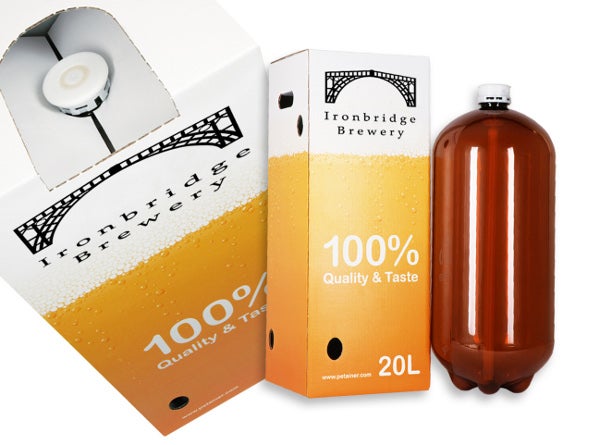 UK-based Ironbridge Brewery has partnered with plastic packager Petainer to supply its new English lager in Petainer Kegs made of polyethylene terephthalate (Pet).
The environmently-friendly, light-weight Petainer Kegs are said to be less expensive compared to conventional metal kegs, and an ideal choice for the mail order business.
Ironbridge owner David Goldingay said the plastic keg, which will package the 20l lager Ironbridge Craft Gold, was selected due to its cost, quality and reliability.
"No internal cleaning of the kegs is required so hygiene standards are always assured. Disposal of the empty kegs into the recycling stream also saves on administration and logistics," Goldingay added.
According to Petainer, the recyclable kegs can be crushed and put into the normal plastics recycling system.
Available in 15l, 20l, 30l and 40l sizes, the kegs have been designed for one-way use and come with low-cost micro matic-compatible fittings, which allow the containers to be connected to existing standard tapping systems.
Petainer Kegs offer benefits including lower costs and lower environmental impacts to breweries, fillers and other users when compared to metal containers, the company claimed.
The kegs can be supplied either as complete, ready-to-fill containers or as performs, which are blown to full size near the site where they are filled, Petainer said.
---
Image: Manufactured in PET, Petainer's recyclable kegs can be crushed and put into the normal plastics recycling system. Photo: Petainer