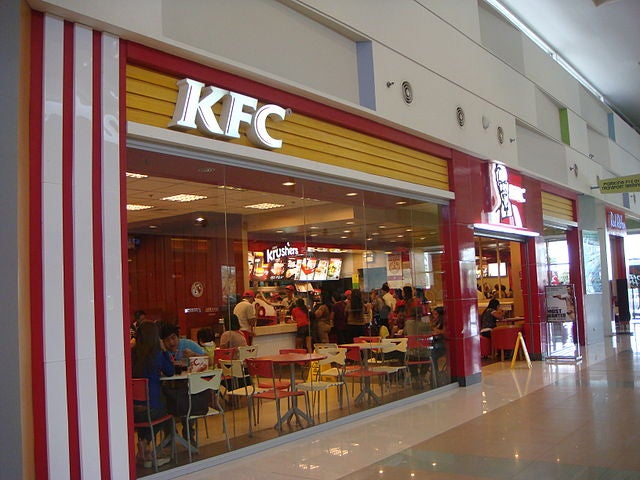 Fast-food retailer KFC UK & Ireland, part of the Kentucky-based Yum! Brands, has taken a firm stand to rule out using any packaging suppliers who are involved in rainforest clearance.
In a response to recent investigations by Greenpeace, an independent global campaigning organisation that works to protect and conserve the environment, KFC's UK arm has amended its policy statement on packaging sourcing.
In May 2012, Greenpeace International research found that the paper used for KFC's packaging products is sourced from Asia Pulp & Paper (APP), a global pulp and paper manufacturer, which pulps Indonesian rainforest.
Greenpeace investigations, performed in China, the UK and Indonesia for about 12 months, confirmed that the products possess rainforest fibre including cups, French fry holders, napkins and the famous KFC chicken buckets.
Food holders for products such as 'Streetwise Lunchbox' and 'Snackbox' were found to contain significant levels of rainforest timber in form of mixed tropical hardwood.
With the official announcement of its packaging policy, KFC joins the long list of global brands that have stopped using rainforest pulp from APP for their packaging, including Disney, Mattel, Nestlé, Xerox, Kraft, Unilever, and Danone.
Greenpeace rainforest campaigner Ian Duff said that the announcement assures millions of KFC UK customers that their meals do not anyway contribute to the destruction of Indonesian rainforest.
"By walking away from companies like the increasingly toxic APP brand, KFC UK is sending a strong message to the business community that it's not acceptable to buy from companies that are turning the rainforest into rubbish," Duff added.
"It's now crucial that Yum, KFC's parent company and the world's largest fast-food retailer, takes similar steps and introduces a global zero-deforestation policy to ensure that none of its operations, which span a 100-plus countries, are buying from suppliers like APP."
---
Image: Greenpeace International research has found that the paper used for KFC's packaging products is sourced from Asia Pulp & Paper (APP). Photo: Ramon FVelasquez.