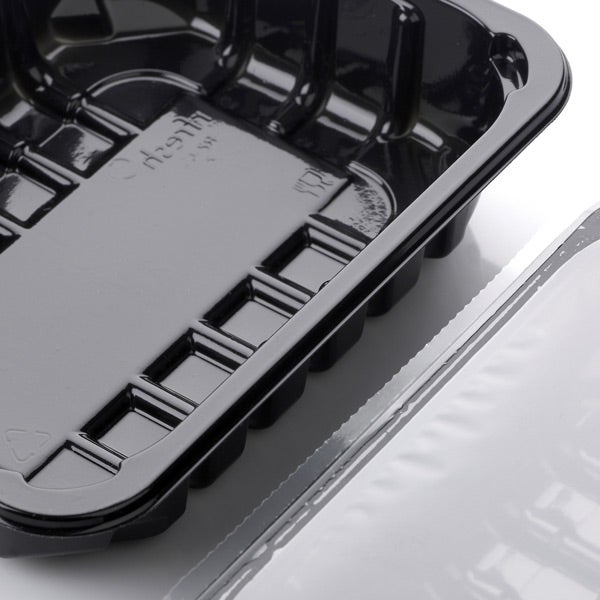 Multi-material packaging manufacturer Linpac is set to unveil a new mono-material tray for meat and poultry, which has been developed in conjunction with the company's lightweighting programme.
The programme was established to considerably reduce the overall weight and carbon footprint of trays, while ensuring they maintain the company's performance and functionality standards.
The new super-lightweight Rfresh Elite range of rPET trays, which are 100% recyclable, use a transparent and food-contact approved sealant on their flanges to create a secure seal with the lidding film, thus removing the laminated PE base film.
LINPAC Packaging innovation director Alan Davey said that doing away with the PE base film reduces the tray's weight by up to 3%, but the company's lightweighting programme is delivering more significant reductions of above 10%.
"Through innovative creative design, investment in improving manufacturing systems and advanced engineering skills, LINPAC Packaging is now producing trays that are significantly lighter than previous designs," Davey said.
A recycled Rfresh Elite tray will give 100% crystal clear PET after recycling, which benefits the packaging and food retailing industries by meeting the targets set by the European Packaging and Packaging Waste Directive.
The seal strength and seal-through-contamination of the trays is remains the same as the company's existing trays, and the recycled material used in their manufacture goes through the company's food-grade super cleaning system to ensure it surpasses food safety regulations.
LINPAC Packaging sales vice president Adam Barnett, commented, "Consumers are demanding that retailers produce more efficient packaging, both in terms of weight and environmental impact, and at LINPAC Packaging we are leading the packaging industry in new developments that address these demands and more."
---
Image: Linpac's new Rfresh Elite range of rPET trays are 100% recyclable. Photo: LINPAC Group Limited.