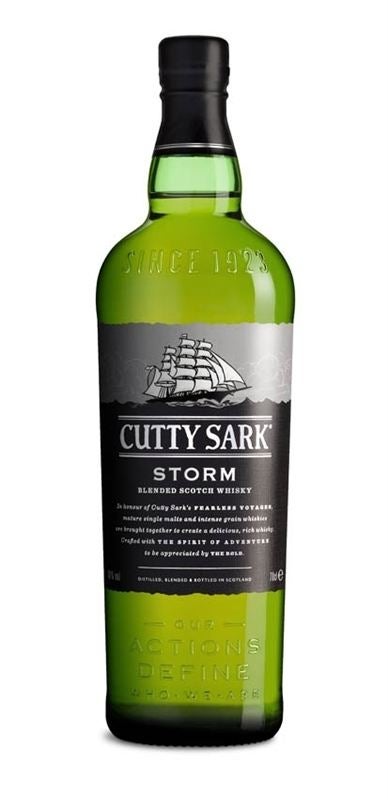 Design agency Pearlfisher and US-based glass container manufacturer Owens-Illinois (O-I) have developed new glass packaging for the launch of the first permanent addition to the core range of Cutty Sark whisky.
The Cutty Sark brand was acquired by Edrington in 2010.
Designed by UK-based Pearlfisher and realised in green glass manufactured by O-I's Alloa glass plant, the new bottle for Cutty Sark Storm brand comes in a tall, oval shape, which gets thinner from shoulders to base.
The bottle's statement of heritage and brand attitude is displayed through bold embossing of the phrase 'Since 1923 our actions define who we are.'
As part of the packaging, the bottle has a new label, with a halftone image of a tea clipper on a grey stormy sea.
Edrington technical services director Mike Rose said the developments are all about getting the right range of glass packaging to create an image for its brands which will fit with the global customer base.
"At the same time, we continue to improve filling line efficiencies and reduce the carbon footprint of our packaging in line with our commitments to the Scotch Whisky Association Environmental Strategy. O-I helps us to achieve this," Rose said.
The company's previous brands were packed in a standard clear glass bottle.
According to O-I, the glass is part of the brand personality, while the colour, shape, decoration play a key part in creating the brand experience into where the consumer comes in.
O-I has manufactured the bottles in 70cl and 75cl sizes.
---
Image: The new glass bottle comes in a tall, oval shape, which gets thinner from shoulders to base. Photo: Cision