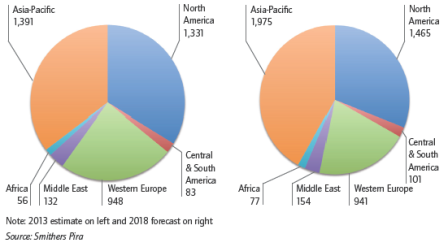 A report by Smithers Pira has predicted that the functional and barrier coatings market, worth approximately $4.2bn in 2012, will increase by around 420,000t by 2018.
The report, titled 'Future of Functional and Barrier Coatings for Paper and Board to 2018', offers an overview of the industry, including quantitative market sizes and forecasts divided by country and end-use.
The report notes that the demand for coated materials is evenly distributed between the Americas, the EMEA and Asia-Pacific. This is expected to largely hold up through 2018, with China expected to drive growth in Asia-Pacific.
The report also reveals that food and drinks packaging accounts for 85% of coating materials. Other growth prospects include non-food applications such as tobacco packaging and reel and ream wrapping.
Raw material price volatility in the markets is expected to create pressure on manufacturers to come up with feasible alternatives at competitive prices.
The use of functional and barrier coatings for the paper and board sector is set to increase due to a change in consumer lifestyles and demographics such as growing demand for convenience, on-the-go meals and smaller packs.
In addition, Smithers Pira claimed that most of the retailers are insisting on traceability of source materials and environmental awareness in suppliers, creating a need for coating materials for packaging applications that are biodegradable, recyclable or compostable.
---
Image: Global market forecast for functional and barrier coatings by region, 2013 and 2018. Photo: Courtesy of Smithers Pira.