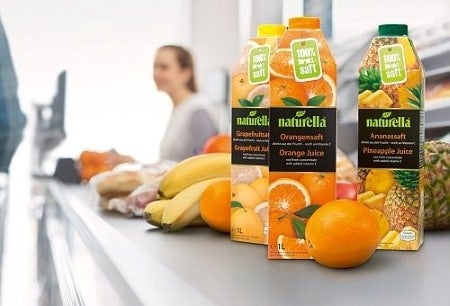 German juice manufacturer riha WeserGold Getränke has selected SIG Combibloc's combidome carton bottle for its 'Naturella' brand of not-from-concentrate juices.
The carton bottle is manufactured using cardboard composite, and is topped with the company's single-action domeTwist screw cap.
The two components inside the combidome filling machine, which produces 12,000 packages per hour, are assembled into the finished carton pack, aseptically filled and securely sealed.
SIG Combibloc combidome system project manager Christoph Kenn said: "At 28mm, the internal diameter of the closure is very large. As it's positioned in the centre of the carton top, this makes for extremely smooth pouring action, and enables users to drink conveniently straight from the carton pack."
The closure is moulded onto the neck of the package, and the carton is moved upside down into the filling zone, where it is sterilised and filled, with the base sealed off at the end of the process.
riha WeserGold Getränke materials management managing director Thomas Mertens said: "Combidome is an eye-catching package, and it's the perfect vehicle for placing a really great product centre stage," Mertens added.
riha WeserGold Getränke's first combidome filling machine is in operation at the company's plant in Rinteln, Germany.
---
Image: SIG Combibloc's new combidome carton bottle. Photo: courtesy of SIG Combibloc.