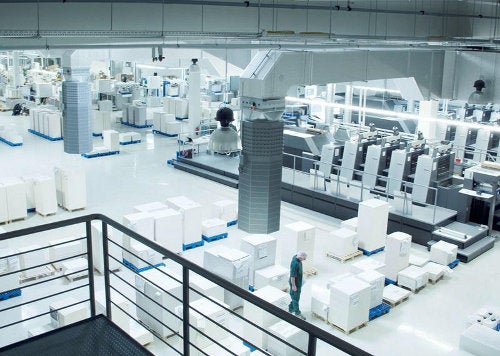 The rlc packaging group has doubled machine capacity at its Pharmacenter in Rüdersdorf near Berlin, Germany, in a bid to better meet the growing demand for pharmaceutical packaging.
rlc installed folding box production in its Phramacenter in July 2012 and commenced production of package inserts in early November 2012.
rlc pharmaceutical division head Walter Würfel said the company assembles and distributes folding boxes, pre-packed drugs and package leaflets at its Pharmacenter.
"Our company is authorised to handle pharmaceutical packaging in accordance with Paragraph 13 of the German Medicinal Products Act," Würfel said.
Besides packaging production, three new production lines for folding boxes offer hybrid effects and other finishing solutions that are rarely used in the pharmaceutical industry.
According to the company, the Pharmacenter operations have been organised according to lean production principles and automation, and enable need-based production.
The package inserts portfolio produced at the Pharmacenter ranges from flat and pre-folded inserts to outserts.
rlc has invested in a new building for its subsidiary BSC in Poland, which offers an additional production space of 2,500m² for pharmaceutical packaging.
The company's operations in Switzerland, Limmatdruck Zeiler, also offer capability in the production of pharmaceutical packaging, which is complemented by PAS Media, a GMP-validated project and artwork lifecycle management tool.
rlc, which offers services including filling and packing of folding boxes, leaflets and pre-packed medications, aims to move forward with its strategy of sustainable growth in target industries, by increasing capacities at its different plants.
Depending on the needs of the manufacturers, the company produces folding boxes using UV printing and hot foil stamping techniques.
---
Image: At its Pharmacenter, rlc assembles and distributes folding boxes, pre-packed drugs and package leaflets. Photo: rlc packaging group