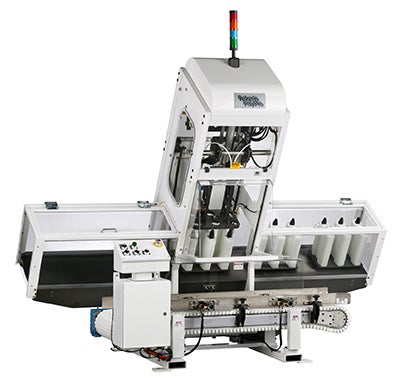 Roberts PolyPro is set to launch a new two-in-one bottle handle applicator that is aimed primarily at applying handles to larger bottles.
The inline intermittent motion applicator, which produces multi packs and single handles at a rate of 20 cases per minute, is claimed to decrease capital investment and provide flexibility.
According to the company, the machine applies customisable twin pack handles when it is in single bottle mode and separates them in the same motion, creating two single bottle handles.
The process can be carried on either by case or through groups of bottles in an inline environment.
The machine applies 100% recyclable high-density polyethylene (HDPE #2) handles, and the company's handle design and sheet extrusion process enable it to manufacture bottle carrier handles that are up to 25% thinner compared to injection moulded handles.
Thinner handles deliver significant savings in shipping and storage costs and also provide sustainability through material source reduction.
A rapid changeover capability has been engineered for the new machine between multi pack and single handle operation.
Roberts PolyPro claims that the bottle alignment technology ensures accurate placement of handles, and requires minimal training to set up, operate and maintain.
In an attempt to enable ease-of-use and ensure low maintenance, the company reduced the number of parts used in the machine and streamlined control, compared to its past offerings.
US-based Roberts PolyPro is a division of Pro Mach, an integrated packaging products and solutions provider.
---
Image: The new inline intermittent motion applicator applies 100% recyclable high-density polyethylene (HDPE #2) handles. Photo: Roberts PolyPro.