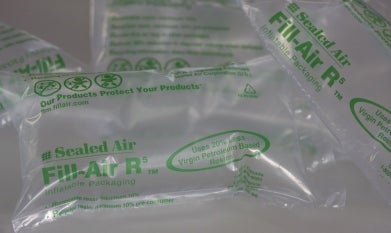 Global protective packaging company Sealed Air has selected Cardia Bioplastics to provide the resin for its Fill-Air R5 inflatable packaging, to reduce its use of non-renewable petroleum based resins by 10%.
The sustainable film has been designed for use in the Sealed Air Fill-Air 2000 and Fill-Air Cyclone packaging systems to create air-filled cushions for void-fill applications, and deliver performance in demanding conditions.
The systems are fast and easy to operate, delivering air-filled cushions on demand for protection and void filling. They also reduce material and shipping costs, the company claimed.
According to Cardia Bioplastics, the resins combine renewable thermoplastics with polyolefin material to reduce dependence on finite oil resources, and to further reduce carbon footprint.
Cardia Bioplastics managing director Frank Glatz said that the main design goals were to reduce the need of petroleum-based resins and to maintain the packaging integrity of the company's Fill-Air protective void fill cushions.
According to the company, there were two aspects for the success of the cooperation. Firstly, the incorporation of 10% pre-consumer recycled content reduced the need for petroleum-based resins by 20% when compared to the Fill-Air Select and Ultra films.
Secondly, the resin met precision performance standards during manufacture and at the point of use, when the film is inflated and used as void fill.
International sustainable resins supplier Cardia Bioplastics develops, manufactures and markets sustainable resins derived from renewable resources for the global packaging and plastic products industries.
---
Image: The new Cardia Bioplastics film reduces the need for petroleum based resins by 20%. Photo: Cardia Bioplastics