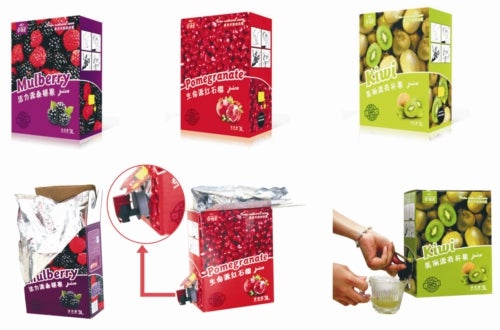 Skypeople Fruit Juice has introduced Hedetang-branded bag-in-box (BIB) fruit juice beverages into the local market of Xi'an, in the Shaanxi province of China.
The company has used a sterile, polyethylene (PE) inner film bag, with a corrugated paper box and an axenic faucet as a container for the BIB packs, which are gradually expected to be introduced into other provincial capital cities of China.
According to the company, the container is highly resistant to contamination and protects the juice from light and heat. The faucets are sterile and therfore extend the product shelf life as opposed to beverages in traditional packages.
SkyPeople CEO Yongke Xue said the launch is another marketing strategy that is being implemented by the company to optimise the competitive positioning of its fruit juice business.
"Fruit juice beverages in BIB packaging are designed to meet consumers' demand for high-end fruit juice products that are healthy and natural, and we believe the modern container technology is perfectly suited for healthy and natural fruit juice beverages and adds to their appeal," Xue added.
SkyPeople Fruit Juice is currently offering three flavours of Hedetang-branded BIB fruit juice beverages, which include mulberry juice, pomegranate juice and kiwi juice beverages.
---
Image: SkyPeople's BIB packaging consists of a sterile polyethylene (PE) inner film bag and corrugated paper box with axenic faucet. Photo: PRNewsFoto / SkyPeople Fruit Juice