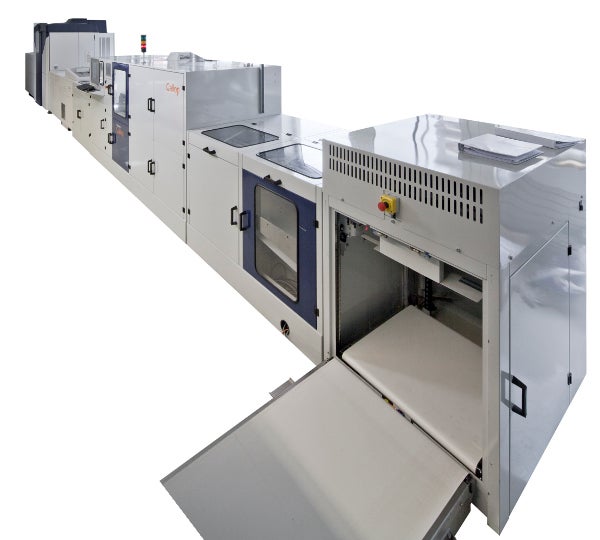 Finnish pulp and paper manufacturer Stora Enso has launched the new Stora Enso Gallop powered by Xerox, with the increased sheet size Xerox iGen4 EXP press and coating unit.
The new edition of Gallop, which has an integrated inline inspection system and a new technology for coating, caters to the requirements in pharmaceutical carton manufacturing.
With the introduction of the new Xerox iGen4 EXP press, the printing area has increased by 15% and the line now supports 364 x 660mm sheets, allowing more package blanks to be printed, coated and die-cut on one sheet.
Coating technology has been enhanced by Stora Enso Pinta, a new coating unit designed specifically for digital packaging production.
Meanwhile, set-up times have been reduced by using a sleeve, while the coater's total efficiency is increased by an automated cleaning system.
Stora Enso said for the production of pharmaceutical packages, water-based coating is applied, but ultraviolet coating is also available as an option.
For in-line checking of the printed characters of every single sheet an image inspection system has been integrated.
Immediately after printing, the inspection takes place and covers every sheet, detecting even the smallest text flaws or dirt.
The Stora Enso Gallop DC 66 die-cutter has a 2-D scanner that guarantees job integrity, checks 2-D codes from each sheet and stops operations, if any discrepancies occur, the company claimed.
Xerox Europe senior vice president for integrated marketing Valerie Thomassin said the second generation Stora Enso Gallop will enable brand owners to achieve an increased return on marketing investment.
"Converters will be able to produce more jobs and satisfy the growing requirement for zero inventory and on-demand supply chains," Thomassin added.
Image: The new edition of Gallop caters to the requirements in pharmaceutical carton manufacturing. Photo: Stora Enso