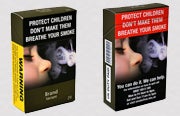 A new study by Cancer Research UK has revealed that slimmer brands of cigarettes with white filter tips and decorative features are more likely to attract teenagers to smoking.
Slim-line cigarettes were branded 'cute, classy and feminine' by the sample of 15 year olds, who also believed slimmer brands were less harmful due to their thinner diameter.
Cancer Research UK stresses that some super-slim brands contain more tobacco-specific harmful nitrosamines and aromatic amines compared to regular cigarettes.
Cancer Research UK social marketing expert at the University of Stirling Professor Gerard Hastings said: "Our research confirms previous studies that both the pack and the product are powerful marketing tools in the hands of the tobacco industry which it is using to recruit a new generation of smokers. It's time policy makers moved to standardise both."
The study collected responses from 48 boys and girls in Glasgow on eight cigarette brands which vary in length, diameter, colour and decoration.
Lead author Dr Allison Ford said that it is worrying to hear that adolescents believe that a glamorous cigarette gives a softer option.
"This important study reveals for the first time that adolescents associate slim and decorative cigarettes with glamour and coolness, rating them as a cleaner, milder and safer smoke," Ford added.
The UK House of Lords is debating standardised cigarette packaging over the next few weeks. Following this, Parliament may vote on legislation to bring in plain packaging for cigarettes.
---
Image: New legislation would standardise how cigarettes are presented in shops. Photo: courtesy of Cancer Research UK.