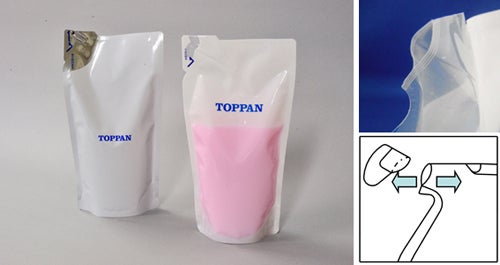 Japan-based Toppan Printing has developed a new standing pouch for the toiletries and cosmetics industries, which enables easy pour of contents.
The new Sosogi Jozu (easy pour) is a bag-type container that uses laminated film and stands by itself, as the base section opens out when the pouch is filled with contents.
The spout section of the pouch does not close up easily and enables smooth refilling.
Toppan Printing has used its original bag making technologies to develop a new spout structure in which the top portion of the pouch is not sealed but folded back on itself.
The spout width can be increased and can be made into a shape that opens out naturally on opening the pouch, as there is no sealed section at the top.
Toppan Printing claims that the time required to pour out the contents is almost 20% less with easy pour pouches compared to conventional standing pouches.
Non-use of plastic parts in the new pouch help it cut down outsourced recycling costs by about 5% compared with traditional standing pouches with tubes, Toppan claimed.
The company said that the full-scale sales of the Sosogi Jozu pouches are expected to begin in mid-September 2012, and the product can be offered at a 10% cost reduction compared to traditional pouches thanks to its lack of plastic parts.
Toppan Printing is targeting sectors such as toiletries, cosmetics, and food industries for expanding the use of its environmentally friendly packaging.
---
Image: The new Sosogi Jozu pouch has been developed for the toiletries and cosmetics industries. Photo: Toppan Printing