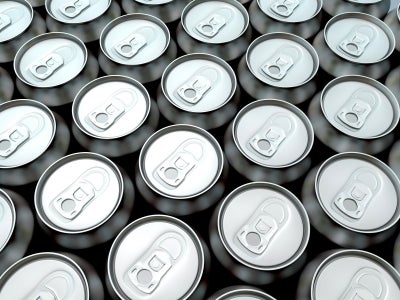 The recycling rate for aluminium beverage containers in the US increased by 7% to 65.1% in 2011, representing 61 billion recycled cans, according to the Aluminum Association, Can Manufacturers Institute (CMI) and INSTITUTE OF SCRAP RECYCLING INDUSTRIES (ISRI).
Aluminum Association president Heidi Brock said the association has made progress toward its goal to reach an aluminium can recycling rate of 75%.
"There is much more work still to be done here in the United States to reach our goal by 2015," Brock said.
Cans serve as green packaging choice as producing a can from recycled material uses 95% less energy, resulting in considerable emissions and resource savings.
The amount of energy saved from recycling cans in 2011 is equal to the energy equivalent of over 17 million barrels of crude oil, the amount needed to fuel more than one million vehicles on the road for one year.
The energy saving is also equivalent to what it takes to produce the 29 billion plastic water bottles consumed by Americans annually.
Of all beverage packages, aluminium cans have the highest recycling rate and also the greatest amount of total recycled content, with an industry average of 68%.
Aluminum recovered from purchased scrap in the US increased by 8% to more than three million tonnes in 2011, while at the same time total US aluminium scrap exports rose by 12% to more than 2.1 million tonnes.
Factors such as imports of used beverage containers, which increased about 25% in 2011, as well as the value of aluminium have contributed to the increase in the recycling rate, the association said.
Owing to high demand for recycled cans in the US, the aluminium industry buys used beverage containers (UBCs) from Mexico, Canada and other countries, as many cans get shipped to those countries.
---
Image: Aluminium cans have the highest recycling rate of all beverage packages. Photo: Salvatore Vuono