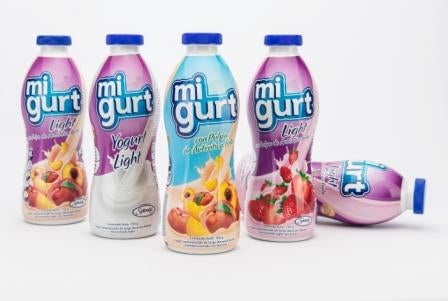 Empresas Polar has launched its first ambient yoghurt in Venezuela, which is packed in a 750g barrier polyethylene terephthalate (PET) bottle supplied by Amcor Rigid Plastics.
Amcor has used advanced barrier technology to design the light-blocking PET bottle for the non-refrigerated pourable yoghurt MiGurt, which requires no refrigeration and has an extended shelf life of six months.
The new PET bottle is expected to meet aseptic filling requirements up to 140°F and provide light-blocking capabilities to avoid spoilage of the yoghurt.
Amcor Rigid Plastics senior technical manager Chris LaBombarbe said: "A uniform material distribution permitted us to achieve sustainable material use while at the same time maintaining light-blocking integrity."
Amcor has incorporated an hour-glass design for the bottle, which optimises PET material distribution throughout the container and minimises resin use.
The white pigmented and opaque structured bottle features a single-lead 38mm finish with a foil induction seal, wrapped with a shrink-sleeve label.
Amcor Rigid Plastics Latin American business diversified products manager Mercedes Candedo said: "The new barrier PET container represents a major development in ambient foods, offering a unique packaging solution that opens up new business opportunities in the food and beverage market."
---
Image: Amcor's new light-blocking 750g PET bottles for MiGurt. Photo: courtesy of Amcor Limited.