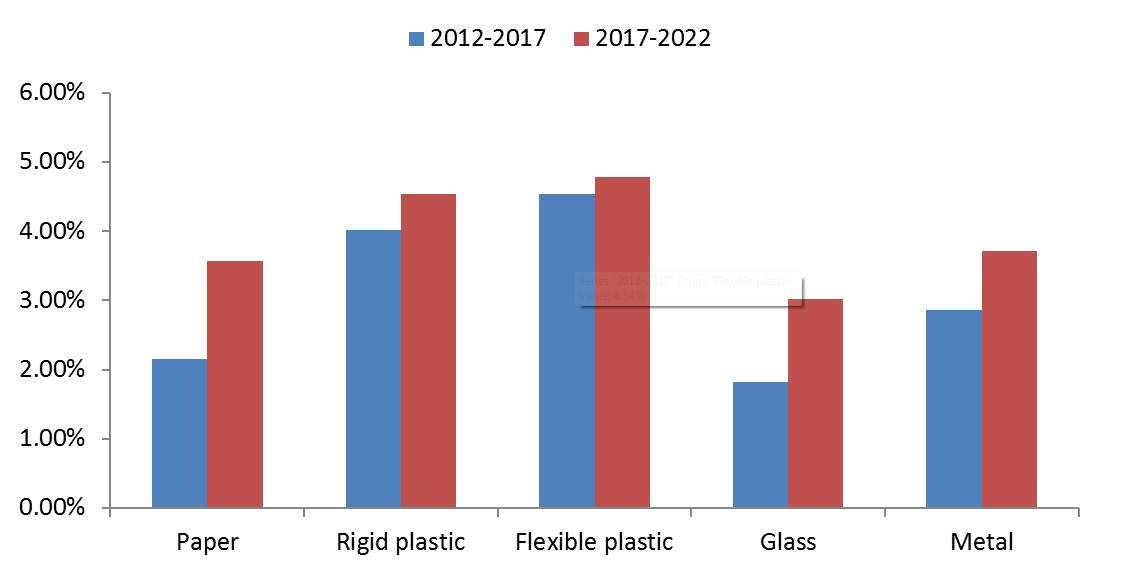 The global containers & packaging market has experienced dynamic development in recent years and is forecast to keep this momentum according to MarketLine 's Global Containers & Packaging Industry Profile.
For several years, strong market growth has been seen, driven by the sale of high-quality recyclable products, which have become a significant feature of the market.
Figure 1: Growth of the global containers and packaging market. Source: Marketline.
In the coming years, according to MarketLine data, the growth trend is expected to remain between 3.8% and 4.4%, varying depending on the type of packaging. This applies to both the raw material from which the packaging was made and the intended use of the packaging itself.
Environmental concerns are affecting the demand for packaging made from ecological raw materials. Thus, the forecasted growth of paper and cardboard, metal and glass packaging are expected to rise with CAGRs of 3.6%, 3.7% and 3% respectively over the 2017-2022 period.
Fig2: CAGR of the Global Containers & Packaging market by segment. Source: Marketline.
The positive dynamics of the development of the rigid and flexible plastic packaging market can also be noted. It is expected that the growth rate of the paper and cardboard segment will equal and even exceed the growth of the plastic packaging segment in the coming years as recyclability and environmental concerns assume greater importance.
For more detailed information on containers and packaging and other markets go to the MarketLine Advantage website.