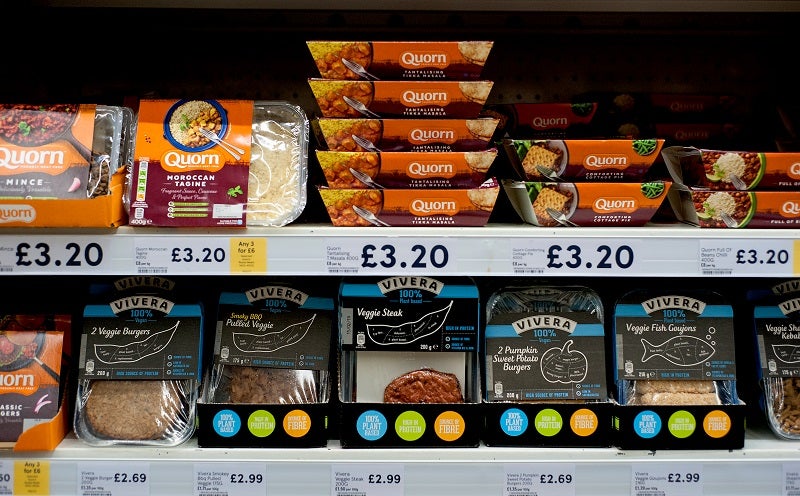 In reaction to growing concerns over the environment, sustainability and transparency, Quorn have taken a positive step towards highlighting the food industry's environmental impact, taking the lead as the first major brand to introduce carbon labelling. The move, helping to solidify their ethical stance in relation to animal welfare and the broader environment, is a first for major brands who all too often hide the environmental consequences of their business to consumers.
The world's largest meat alternative brand has developed a Carbon footprint tracker, showing the quantity of carbon released getting the product 'from farm to shop', certified by The Carbon Trust . The carbon tracker is currently available online and covers around 60% of Quorn's product range, including Quorn Sausages and Quorn Mince. The brand aims to have carbon data directly on product packaging 'later' in 2020.
Carbon labels on each product will help consumers make more informed decisions while shopping, helping them to understand the environmental impact of what they consume. The question is, is this just another attempt at cynical corporate virtue signalling or will it provide consumers with something they actually want?
GlobalData's 2019 Q3 Global consumer survey found that 60% of consumers find products with a low carbon footprint very or somewhat appealing. The same survey also found that 46% of consumers actively buy products that are better for the environment or are animal-friendly.
Another benefit for Quorn is that they are also future-proofing in preparation for the rise of 'ethical shopping'. With higher living standards, consumers are increasingly demanding more than just transactional relationships, expecting brands to match their values and ethics on topics such as equality and environmentalism. Transparency is a particularly strong factor in the food industry, emphasized by recent scandals over food safety such as the 2013 European horsemeat scandal and the 2017 spoiled meat scandal in Brazil. Both stories highlighted the lack of traceability in the meat supply chain. Further, Globaldata's 2018 Q3 Global Consumer Survey found that 65% of consumers say their choice of food product is often or always influenced by how familiar, trustworthy or risk-free it is. Consumers show a clear interest in understanding where their food comes from and the environmental impact of consuming it. The transparency required to enable carbon tracking and labelling will be another benefit for society.
While Quorn's carbon labelling is a step in the right direction, the true value of carbon tracking will not be seen until more brands, suppliers and retailers follow suit and make this information available on packaging for in-store comparison, especially for meat products. In the mean-time, Quorn should expect to gain traction with consumers keen to understand and manage their carbon footprints.