1-TAG is a completely new anti-counterfeiting development coming out of the research and development laboratories of one of the world's largest printing equipment manufacturers, Heidelberger Druckmaschinen in Germany.
Anti-counterfeit technology for brands and consumers
1-TAG is an entirely different strategic market approach for brand owners to engage with consumers. It offers a major deterrent against counterfeits by using technology that is easily accessible by consumers and cleverly provides a proactive brand building strategy in the fight against counterfeiting.
The 1-TAG premise is simple. To stop counterfeiting, the best technology needs to be put into the hands of the people who care most: the consumers.
Smartphone product authentication
1-TAG uses a mobile smartphone application (app) to scan two component security labels. On the left hand side of the 1-TAG label, a randomised pattern is produced using copper wire that is not mechanically repeatable, not even by 1-TAG. This provides a unique pattern akin to a person's fingerprint.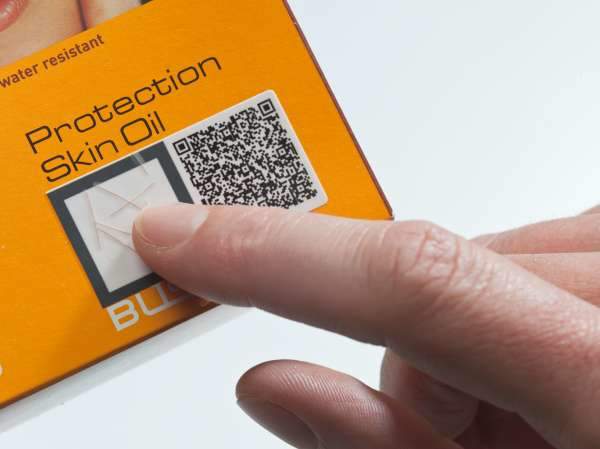 1-TAG's anti-counterfeit label uses a unique copper wire pattern that cannot be replicated.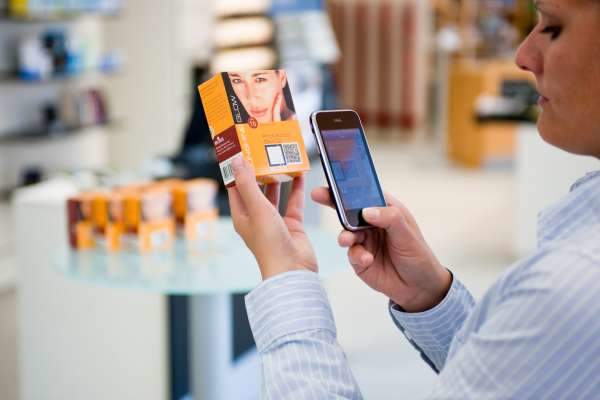 1-TAG believes anti-counterfeit technology will work best if it's put in the hands of consumers.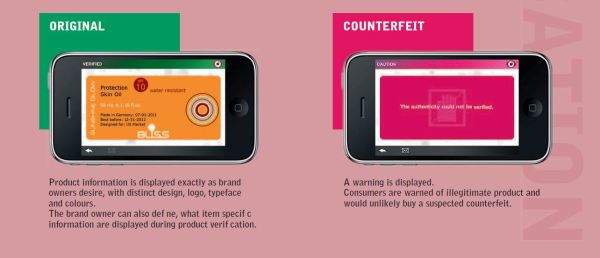 App software can be used to display authenticated brand owner product information on a consumer's mobile phone.
At the final packaging stage of a product, the randomised pattern is captured and cryptographically embedded into a QR code on the right hand side of the label, together with product information provided by the brand owner. The final 1-TAG label is then applied to the product to give it a unique individual identity with a triple-layer of security.
The mobile app software uses cryptographic technology to compare the physical randomised pattern on the left with the hidden encrypted pattern in the QR code on the right. It then displays authenticated brand owner product information on the mobile screen.
What is unique about this mobile phone technology is that 1-TAG does not employ a centralised database repository. This means that there are no costs for the user when authenticating products. Products can be authenticated from anywhere around the world, and at any time, even where there is no mobile network connectivity available.
No other technology matches 1-TAG's combination of consumer ease, accessibility and robust security.
Visible and invisible authentication systems
Most visible authentication systems are counterfeited sooner or later, since they are based on mass produced systems such as holograms.
1-TAG is a solution that consumers can visually identify with. The two component 1-TAG label uses randomisation of the copper wire pattern, is not reproducible and uses highly sophisticated cryptography which is invisibly embedded into the QR code together with the specific brand owner's product information, which counterfeiters cannot see but is simple to verify using the 1-TAG mobile app on a smartphone.
The 1-TAG solution also acts as a deterrent to counterfeiters who see the 1-TAG on products.
Brand marketing tool
1-TAG can integrate a web micro site link between the brand and the consumer when a product authentication is made. Access can be made available after authentication is complete to provide further information, incentives or a product catalogue, which can help consumers with their choice at the moment of purchase.
Avoiding counterfeits in the supply chain
As consumers can now be empowered to identify counterfeit products at point of sale, pressure is applied backward through the distribution chain to ensure counterfeit products do not enter the supply chain in the first place.
Companies are no longer alone in pushing to solve the problem with expensive inspection and detection resources, as they can rely on the pull from a global enforcement team of more than four billion people with mobile phones. This will become the biggest deterrent against counterfeits.
This is an entirely different way for brand owners to engage with consumers. Market communications can provide awareness of the risks of buying counterfeits that also cleverly offer a proactive brand building strategy in the fight against counterfeiting.
The system is designed to create substantial value for brand owners so the costs should be weighed against the benefits.
The topline benefits for consumer authentication include:
Increased consumer confidence in buying original branded products
More identified fakes, meaning fewer sales for counterfeiters
Fewer consumers being disappointed with a brand's quality after unknowingly buying a counterfeit product (less erosion of brand's equity and fewer customers lost for a lifetime)
Consumer enforcement team of four billion people (free)
Grey market products which come from late shift production over-runs are harder for corrupt partners to sell
The bottom line cost reduction is outstanding in these critical areas:
High security of the technology
Scalability of the solution
Total cost of deployment
Market application and adoption
Highest possible ROI
Other anti-counterfeiting technology can be replaced