A range of industries, from pharmaceuticals to consumer products, use JDSU Authentication Solutions as an effective deterrent to counterfeiting. The company develops and produces high-security overt (brand authentication) and covert (brand forensics) solutions to help consumers, customs officials and field investigators determine product authenticity.
JDSU digital authentication services include track and trace, remote authentication and brand monitoring to provide additional layers of defense against counterfeiting, tampering, and diversion for many of the world's recognized brands.
Overt, covert and forensic security
JDSU has spent decades assisting governments and major brands to communicate their promises with clarity and integrity using visual tools that are unique, beautiful and instantly recognizable. JDSU offers comprehensive authentication solutions that incorporate overt, covert, and forensic security features for multiple layers of security.
Overt authentication technology for packaging
Overt features are designed to be easily recognizable to the public and difficult for counterfeiters to simulate. They are generally authenticated visually, without the aid of a special device or a high level of training in the field. This makes them ideal for on-site validation by airport security workers, merchants and consumers who are concerned about safety.

Overt features are designed to be difficult for counterfeiters to simulate.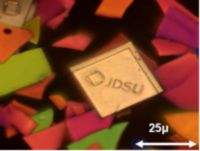 JDSU provides a unique suite of covert authentication offerings, including Charms™ microstructured taggants.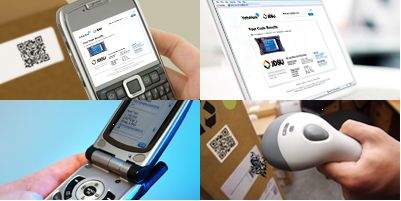 Digital authentication technology is another way to prevent counterfeiting.
Holography and color-shifting technologies are key elements of the JDSU authentication portfolio. JDSU overt authentication technologies are the most widely used and available in the world today, with Transparent Phantom recently introduced as the newest member of the portfolio.
With more than 25 years of experience in overt security features, JDSU is a consistent innovator and offers the broadest range of overt authentication features today. The range includes SecureShift® color-shifting inks and ChromaFlair® light interference pigments, high-security holographic originations that incorporate classical and digital holography, SpectraFlair® light diffractive pigments, MetaSwitch™ and Phantom™ label printing technologies.
Covert and forensic security for packaging
Covert features are designed to help field investigators determine the authenticity of a document or product with a high degree of certainty. These features are generally unknown to the public and require the use of a specific device (magnifiers, special lighting and/or specialized readers) and some degree of training to validate. JDSU provides a unique suite of covert authentication offerings, including Charms™ microstructured taggants, UV / IR taggants and optically originated microtext, nanotext and HoloScan™ technologies.
Forensic features are designed for laboratory examination to determine authenticity in a manner that would be recognized in a court of law. JDSU offers a range of forensic authentication methods that are recognized and deployed by leading law enforcement agencies worldwide.
Digital authentication security features for packaging
Digital authentication technology provides another introductory layer of defense against counterfeiting, tampering and diversion to complement JDSU's sensory and covert authentication technologies. As the product is manufactured each item, box or sleeve is encoded with a serial number that is registered on the JDSU online database.
Using AuthentiTrak™, consumers are able to utilize a customer-friendly online portal to check the authenticity of the recently purchased product. JDSU's proprietary online track-and-trace software, AuthentiTrak, enables brand owners to track products and validate authenticity throughout the entire supply chain. Combined with JDSU's Internet monitoring solution, brand owners can be assured of a robust plan to combat threats to their brand.
JDSU innovates and markets diverse technologies that enhance the way people experience the world every day. It enables fast, high-quality communications, secure financial transactions, reliable consumer electronics, green energy, differentiated brands and a host of other solutions. It provides these solutions through three business segments:
Communications test and measurement
Communications and commercial optical products
Advanced optical technologies