ROI provides cost-effective modular solutions to automate the palletizing and de-palletizing processes across a broad range of industries. The company's core product, PALLETPODTM are enclosed mobile palletizers with remarkably small footprints that are virtually plug-and-play for most end-of-line palletizing applications.
The PALLETPOD Compact Palletizers are highly configurable. They are ideal for use in existing space-constrained and height-limited facilities, as well as for integration into new highly automated production lines.
Ensuring quick payback on ergonomic automation, the PALLETPOD is focused on making palletizing technology operationally and financially feasible for low to medium-high volume packaged goods manufacturing, contract packing and warehouse logistic operations. The PALLETPOD Compact Palletizer is an economical solution to meet OSHA lifting guidelines and prevent repetitive motion injuries, lower workers compensation claims and insurance premiums, as well as reducing training and retraining costs that can eat away at productivity and profits.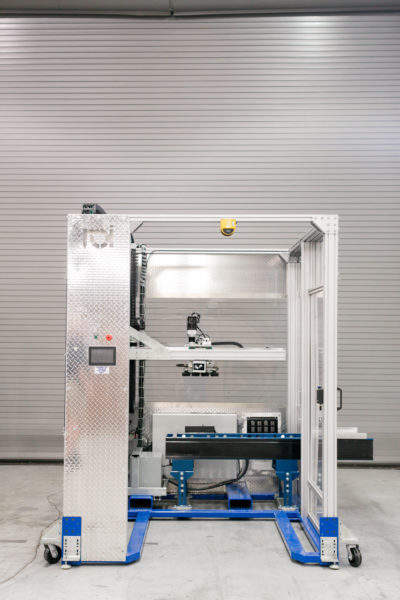 The ROI PALLETPOD Compact Palletizer is the answer for many end of line palletizing operations.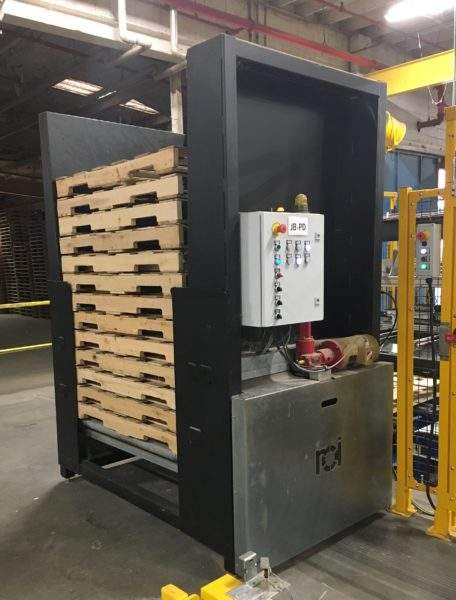 The company provides pallet dispensers in low level and fully automated configurations, as well as GMA, CHEP / PECO pallet dispensers.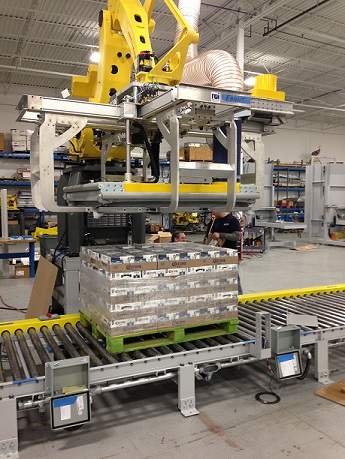 The layer gripper, layer picker offers End of Arm Tooling for depalletizing a layer of products at a time, with a maximum capacity of 250kg.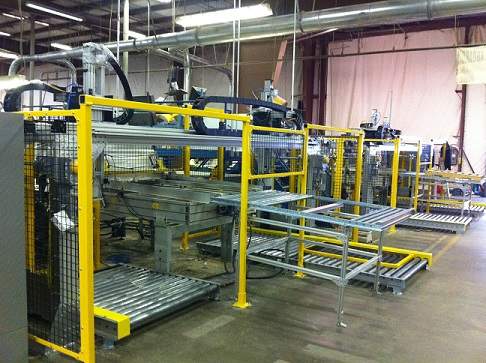 Low height pallet conveying, CDLR (Chain driven roller conveyor), medium and heavy duty conveyor, 24VDC internal drive motor, horizontal power conveyor.
Other products include the PalletMate pallet dispenser and stacker, pallet dispensers for fully automated systems, and depalletizing systems and tools. Also available are low-height powered pallet conveyors to further increase process speeds, operational efficiency and safety of palletizing operations.
Mobile compact palletizers for food and beverage, consumer goods and industrial production lines
ROI's patented PALLETPOD Compact Palletizers have a workload capacity of 220lb (100kg), and a stacking height up to 107in (272cm) with an overall mast height up to 136in (345cm). (If stacking ½ pallets, the mast height is 104in (264cm)).  The PALLETPOD compact palletizers have a very small footprint of less than 60ft² (5.6m²), providing a uniquely viable solution for most end-of-line palletizing of boxes, bags, pails, and bales.
The base model is designed for manual pallet placement and removal of pallets. Multiple stack patterns can be easily programmed into the PALLETPOD based on application-specific requirements, enabling fast and smooth production changeovers. As a standalone 'plug-and-play' system, it can begin automating most palletizing processes in less than two hours after delivery.
The PALLETPOD compact palletizer can be integrated into an existing operation or simply placed at the end of a production line. All single station models include fork pockets, for easy forklift transport and placement inside a production facility, with built-in wheels allowing for manual maneuvering into tight spaces. No special rigging equipment is required.
Options are available to customize the PALLETPOD for specific needs. These include pallet dispensing with in-feed and out-feed conveyors for automated loading and unloading of pallets, tier sheet dispensing, in-feed accumulation conveyor, tool changer, and custom end of arm tooling (EOAT) designs.
The PALLETPOD is a cost-effective solution for a wide range of end-of-line palletizing operations. With a very small footprint in a robust preassembled portable enclosure, it is easy to set-up and operates with minimal disruption to existing operations.
Does your company palletize boxes, bags, pails or bales? Are you asking your employees to handle empty pallets or stack or unstack boxes weighing 25lb or more? Do you realize by just handling two 25lb boxes per minute, they are lifting in excess 22,000lb per shift?
Don't wait. Fill out the form on this page and we'll forward more information on our patented PALLETPOD Mobile Compact Palletizer, along with our other products and an ROI (Return On Investment) excel worksheet to help you calculate your payback.
Pallet dispenser / stacker
ROI's PalletMate is a floor level pallet dispenser / stacker that can dispense or stack one to four pallets at a time. The unit addresses ergonomic and safety concerns for handling pallets. Employees may never need to manually lift a pallet again.
The base PalletMate can dispense or stack up to 15 pallets. With an optional magazine extender, the PalletMate can handle a stack of 24 pallets. A touchscreen interface allows the operator to direct the PalletMate to stack or dispense between one and four pallets.
Standard PalletMate systems are available for 40in x 48in x 4.75in GMA or 40in x 48in x 5.5in Chep / Peco pallets. The unit can also be customized to manage other pallet sizes. It operates on 110 / 220 single phase VAC and 1.3scfm of compressed air. Floor anchoring is recommended when loading or unloading using a forklift.
Extending ROI's pallet management product range are fully automated pallet dispensers that can integrate directly with the Compact Palletizers or robotic palletizing cells and automated guided vehicles (AGVs).
Don't wait. Fill out the form on this page and we'll forward more information.
Layer grippers for palletizing / de-palletizing
ROI's Layer Grippers / Layer Pickers are designed to significantly boost productivity. These game-changing tools allow a robot or gantry to descend upon palletized products and then rapidly de-palletize one layer at a time. Using a vacuum cup plenum, and global vacuum in conjunction with pneumatic clamping, the layer gripper can handle a wide variety of products (more than 25,000SKUs) with varying stack patterns and then move it to the discharge position.
ROI Layer Grippers give users the ability to transfer layers from one pallet to another, creating mixed pallets of products for order fulfillment.
ROI Layer Grippers have a motor-driven jack screw that raises and lowers the hood on demand to accommodate products with varying heights. The largest tool has 18in of vertical hood adjustment to accommodate a greater range of product heights, whereas the smallest tool has approximately 9in of vertical hood adjustment.
Layer length and width dimensions can range from 38in x 30in to 52in x 44in, making the tool versatile for picking from varying pallet sizes and product patterns. Maximum grip capacity is 550lb. Depending on the product configuration, and pallet transfer speeds, the ROI layer gripper is capable of transferring 300 layers per hour.
To facilitate integration, ROI provides DeviceNet, Profinet, Profibus, or ethernet interface I/O control modules.
Low-height pallet transfer conveyors
For the past 11 years, ROI has been an innovator in designing and building custom equipment to meet demanding customer requirements. One solution has evolved into a family of low-height pallet conveyors.
Easily convey standard GMA or Chep/Peco 40in x 48in pallets at heights of 4.5in off the ground. Standard conveyors are available at 44in or 52in active conveying widths, lengths of 5ft, 6ft, 8ft or 10ft, speeds of 10fpm to 45fpm and conveying capacities of 2,500lb and 4,400lb.
ROI's low-height conveyors use internally driven 7 or 10 amp 24VDC motors with speed-selectable driver cards.
About ROI
After years of experience building and deploying integrated robot cells and custom equipment, ROI is focusing its efforts towards providing economical highly dependable palletizing and pallet handling machinery and equipment that is very simple to install, operate and maintain. Our success as a company will ultimately depend on how we can deliver an exceptional ROI to your bottom line.
Don't wait. Fill out the form on this page and we'll forward more information.