TopTier fully automated palletizers are used throughout industry by Fortune 500 companies. Incomparable ease of use, cost, compact size, durability, and layout flexibility separate TopTier palletizers from all other solutions.
Palletizers to suit any application
TopTier palletizers handle cases, bags, bundles, buckets, and trays. Models are available in both high and floor level infeed at speeds from 10 to 80 cases per minute. TopTier offers both traditional layer-build and robotic solutions. With TopTier's exclusive stretch wrap option, loads are automatically wrapped as layers are deposited – with no impact on throughput rates.
Advanced-design palletizers
Patented innovations from TopTier provide size and price advantages by simplifying fundamental case layer build and case layer set down functions. The simple four-corner lift system eliminates the expense and complexity of handling cantilevered loads.
Simplified modular designs for any requirement
Strong laser-cut and CNC-formed welded frames
Many case metering and case turning solutions
Electronic gapping of product for layer pattern build
Four-sided layer conditioning and centering
Large layer build area for gap patterns
VFD-controlled motors
CE certified
Quality components throughout, including SEW-Eurodrive and Allen Bradley; other control platforms available
Easy to use palletizers
TopTier palletizers combine the most recent advances in machine control technology with the easiest control interface on the market.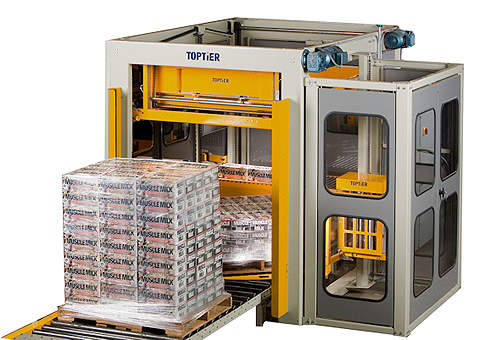 TT-L20 – low infeed with stretch wrap option.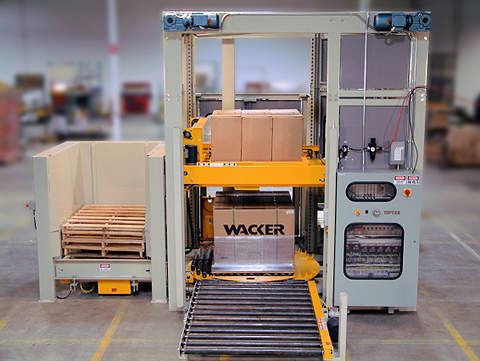 TT-L10 – low infeed tall load with stretch wrap option.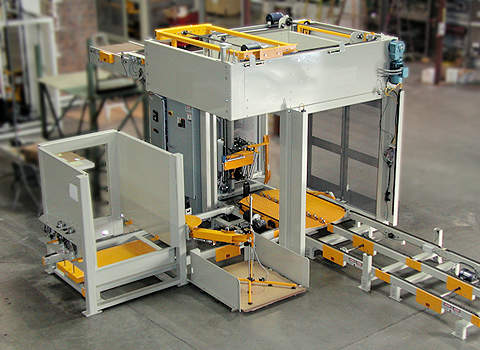 TT-H50 – high infeed with slip sheet option.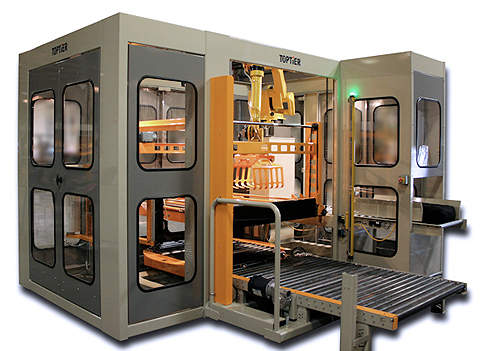 RoboTier – integrated robot in multiple configurations.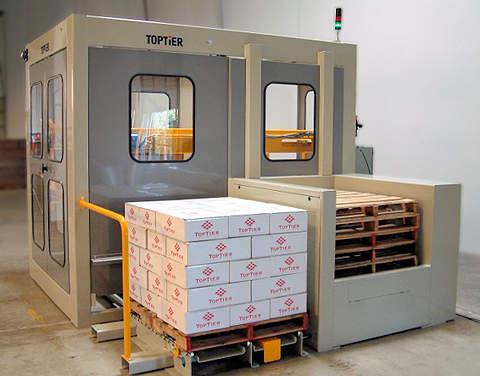 Stacker model – economical alternative to hand stacking.
Color touchscreen control interface
EasyStack™ pattern programming
Any pallet pattern
50 patterns standard with expansion available
Instantly change patterns from alphanumeric list
All patterns retain unique build instructions
Comprehensive error messaging with simple recovery
Palletizer options and accessories
TopTier offers options and accessories to meet any production requirement. All accessories are integrated into the EasyStack control system and operations are fully automatic.
Inline or right-angle product infeed
Tie sheet, slip sheet, or pallet liner insertion
Case turning options from simple bump-turn to labels-out
Several pallet dispenser designs
Roller, chain, and wire mesh palletized load conveyors
Concurrent stretch wrapping
Oversized loads to 60in x 60in layers and/or 110in tall
Stainless-steel construction available
Dual stacking and other custom configurations available
Safe palletizers
TopTier palletizers are designed with a focus on operator safety. Every unit is fully enclosed by doors, tunnels or light curtains monitored by redundant contact safety relays.
Category III enclosure
Infeed safety tunnel
Muting light curtain at load exit
OSHA-compliant lockouts
Tamper-proof fiber optic door interlock safety circuit
Palletizing systems
A dedicated palletizer for each production line is more reliable, less expensive, easier to maintain, and more flexible than typical single-point-of-failure solutions. TopTier's compact size and low cost allow dedicated palletizers in simple modular layouts that require less space and enhance long-term flexibility.
Compact, flexible palletizers
TopTier manufactures palletizers exclusively. TopTier designs are backed by decades of material handling engineering and machine building experience, including robotic solutions. When introduced in the '80s, robots were the superior solution to legacy layer building palletizers for low to moderate speed applications. TopTier has now revolutionized both layer building and robot palletizers with machines that are smaller, safer, equally flexible, and lower cost to purchase and live with than standard robots.
TopTier delivers proven state-of-the-art palletizing solutions. Our patented technology uses simplified and modular mechanical designs for increased reliability and layout flexibility. Industry-leading controls architecture provides unmatched ease of use. Contact TopTier for palletising solutions that work.