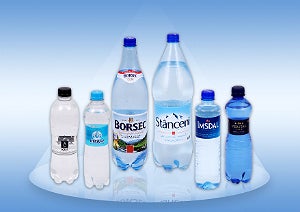 In 1998 BERICAP introduced one-piece polyethylene closures with DoubleSeal® technology to the beverage market. Since then BERICAP has become the world leader in designing, manufacturing and supplying one-piece beverage closures worldwide.
The success of the BERICAP one-piece beverage closure during the last 15 years has been based on its DoubleSeal® technology, with an inner and outer seal delivering superior performance even under extreme weather conditions.
BERICAP offers the one-piece beverage closure BERICAP DoubleSeal® SuperShorty for the standard PCO 1881 neck finish. The design of the BERICAP DoubleSeal® SuperShorty not only ensures safe sealing, but also safe venting for bottles of up to three litres in size.
Some of the many outstanding characteristics of the BERICAP DoubleSeal® SuperShorty include easy application, consumer friendly removal torque and safe breaking of the tamper band. BERICAP only chooses high-quality HDPE resins for the manufacture of all of its beverage closures to preclude any negative impact on the taste or odour of the customer's product.
The BERICAP DoubleSeal® SuperShorty closure is designed for easy application, something that is appreciated by many bottlers. BERICAP's technical customer service team is available to ensure the best application performance and highest capper efficiency.
BERICAP's latest BERICAP DoubleSeal® SuperShorty product comprises a one-piece beverage closure weighing less than 2g and a high-performance version weighing slightly more than 2g. BERICAP also offers solutions for still water and with a customised design.
Beyond carbonated beverages, BERICAP's DoubleSeal® technology can be designed to incorporate Advanced Tamper Evidence – where the tamper evident band breaks before the seal releases.
BERICAP's success in linerless technology has also been transferred to hot fill beverage applications for isotonic beverages, juices and ready to drink teas. This has brought many additional advantages including a dramatic improvement in the consumer's "ease of opening" experience.
Major brand owners recognise the performance of BERICAP's DoubleSeal® closures and BERICAP is now the accepted closure supplier in many parts of the world – a success story that started 15 years ago.
BERICAP is a leading closure manufacturer with 22 manufacturing sites in 20 countries. BERICAP concentrates on plastic closures for beverages, food and chemical products.