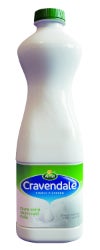 Arla Foods is the UK's largest supplier of fresh milk and cream, processing more than 2.2 billion litres of fresh milk each year, across their six UK dairies and two UK creameries.
Recently the Cravendale brand was relaunched, with the introduction of new packaging formats. One-litre PET bottles were chosen, at the expense of one-litre gable top cartons, following positive consumer research that showed the Cravendale PET bottle to be easier to use and easily re-closable.
Furthermore, the Cravendale brand is expanding into the food-to-go category for the first time, by launching a brand new 500ml bottle into their range.
BERICAP closures protect Cravendale white milk
To protect plain milk against the so-called 'light' taste, Bericap offers adequate features to protect the liquid against this not liked 'off-taste', helping to maintain the natural milk taste during its shelf life.
After extensive evaluation of its options and having carefully tested and approved the DoubleSeal DS 33/12 closure, Arla Foods chose BERICAP UK as its closure partner.
The DoubleSeal™ DS 33/12 is equipped with a folded tamper evidence band, for safe breaking, as well as a specific design of the sealing lip for tight sealing, to ensure the product's integrity.
The DoubleSeal™ DS 33/12, currently used on PET bottles, can be well decontaminated with all standard decontamination methods known in the market for aseptic filling. After adaptation it is feasible to use that closure also on HDPE bottles.
---
Image: Arla's Cravendale with BERICAP's DoubleSeal™ 33 closure.